Children's Dentist – Irving, TX
Keeping Growing Smiles Healthy and Happy
At Daily Smiles MacArthur Dental and Orthodontics, we serve dental patients at every stage of life and enjoy being able to make the care process more convenient for the entire family! In particular, it's never too early to get your child started on the path toward lifelong oral health. Dr. Rafiq works hard to give young patients a positive first impression of the dentist's office, and our comprehensive menu of services has several options that are a great fit for growing smiles. We will take the time to talk and inform you of your child's dental situation and what to expect in the future. If you'd like to schedule a children's dentistry appointment, don't hesitate to contact our Irving, TX dental office.
Why Choose Daily Smiles MacArthur Dental and Orthodontics for Children's Dentistry?
We See Dental Patients of All Ages
TVs & Kid-Friendly Amenities Available
We Welcome Your PPO Dental Insurance
Children's Dental Appointments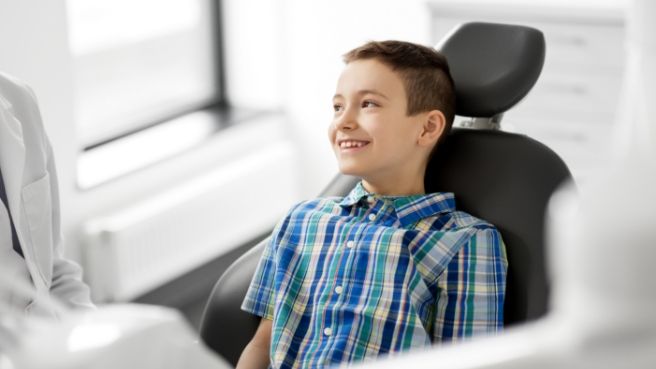 Every child's development and mouth are unique, which is why our team of experienced professionals personalizes their approach to match each patient's needs. For young children who have just developed teeth, we'll conduct gentle examinations to make sure that their mouths are healthy. Our checkups will allow us to diagnose and treat any developmental abnormalities early on. We also give patients and parents all the tools and instructions they need to keep their small smiles healthy at home.
For older children, their appointments will consist of a typical checkup and cleaning. Our team takes the time to create a comfortable atmosphere for your little one to help them feel at ease. Because our practice offers full orthodontic treatment, we can get started on improving and repairing their smile as early as possible for a simpler and more effective care experience.
Dental Checkups & Teeth Cleanings for Children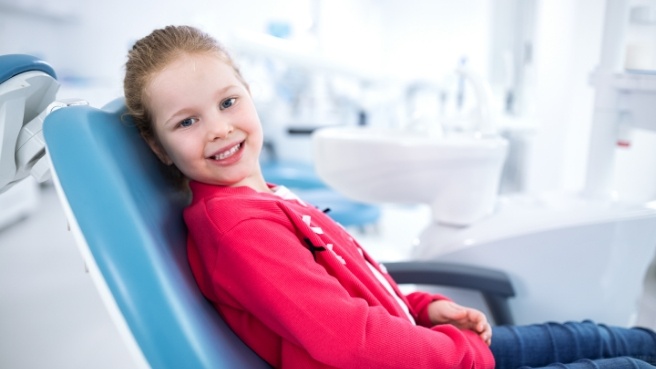 Children's routine dental checkups and teeth cleanings are a vital part of their oral hygiene routine. Dr. Rafiq uses the latest techniques and technology in dentistry, such as intraoral cameras and digital X-rays, to diagnose and treat small problems before they have a chance to become more severe and impact your child's development. Once we examine your little one's mouth, if we spot any oral health issues, we'll develop a customized treatment plan. Whether it's pesky cavities, undeveloped enamel, or worn-down teeth, we have treatments that will ensure their smiles stay healthy into adulthood.
Dental Sealants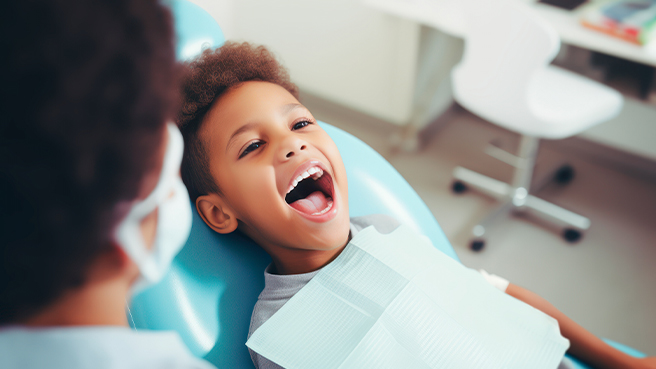 For children who love their sweets or regularly get cavities, we offer dental sealants. Think of these as small raincoats that are painted over their pearly whites to keep sugar and harmful oral bacteria from settling on them. It's a short procedure that's completely painless, so as a parent, you won't have to worry about preparing your child for a grueling visit to the dentist.
Learn More About Dental Sealants
Fluoride Treatments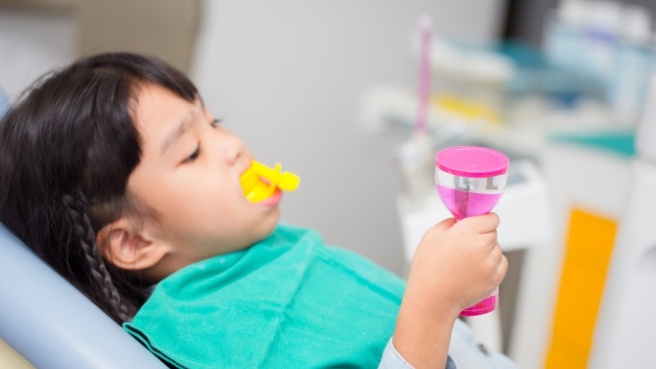 Small developing teeth need fluoride to grow up to be strong. Sometimes, patients don't receive enough of this natural mineral in their everyday lives, which means they could benefit from treatments administered by their dentist. It provides young patients with everything their body needs to strengthen their tooth enamel, allowing it to fully develop and making their pearly whites less prone to cavity development.
Nightguards for Bruxism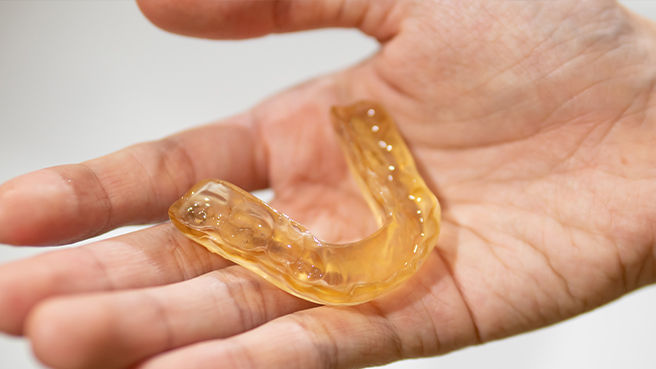 If you've noticed a grinding sound when your child falls asleep at night, it's most likely a habit called bruxism, or nightly clenching and grinding. This can cause your child to wear down their teeth and enamel, leaving them susceptible to oral health problems. At Daily Smiles MacArthur Dental and Orthodontics, we may suggest a custom-made nightguard to protect their pearly whites from rubbing against each other.
Tooth-Colored Fillings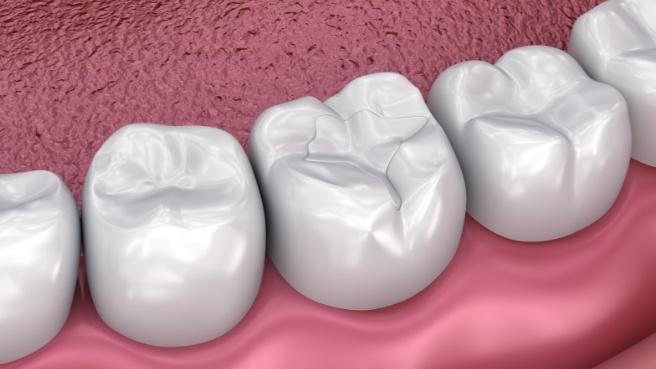 Cavity development is an unfortunate reality for everyone, especially young children who are still learning how to properly take care of their smile. If we spot a small cavity forming during their checkup, we'll suggest getting it treated with a tooth-colored filling. It will protect the tooth from harm and seal it off to prevent any additional damage from occurring.
Sedation Dentistry for Kids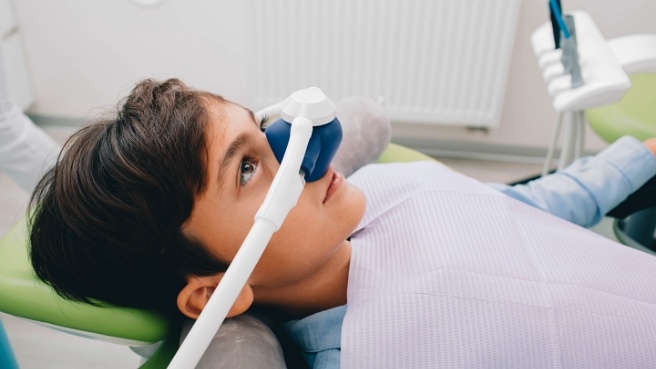 Our team is happy to provide sedation dentistry for all ages upon request, which can help calm your child's nerves and create a more relaxed environment for their treatment to commence safely. Here are some other tips on how to make your child's next dental visit a happy one:
Bring them along to a parent or sibling's appointment! This will give them a chance to get used to the sights and sounds of the dental office without the pressure of having to sit in the treatment chair themselves.
If your child has a stuffed animal, blanket, or other toy that brings them comfort, bring it to their appointment.
Practice playing "dentist" at home to get them used to the idea. Ask them to sit with their head back in a chair and peer into their mouth. Then, switch places!
Do your best to not use any negative language when discussing the dentist's office with your child. They're more perceptive than you think – if you're nervous, they will be too.
If you have any questions or concerns about your child's dental visit or pediatric dentistry in Irving, don't hesitate to contact our office. Our team of professionals will be more than happy to work out how we can make their appointment stress-free, educational, fun, and easy.