Orthodontics – Irving, TX
Comprehensive Orthodontic Treatment Transforms Smiles in Irving
Orthodontic treatment can correct a whole host of serious dental problems, from harmful overcrowding and misaligned bites to cosmetically imperfect teeth. At Daily Smiles MacArthur Dental and Orthodontics, our dentists are happy to offer this service in-office to save our families valuable time and money. We recommend that children undergo an orthodontic evaluation by the age of seven, and it's never too late for adults to pursue the smile transformation they deserve through these quality options. Contact us today to schedule an appointment for orthodontics in Irving, TX!
Why Choose Daily Smiles MacArthur Dental and Orthodontics for Orthodontics?
Invisalign Clear Aligners for More Subtle Treatment
Traditional Braces Designed for Complex Cases
Dental Team That Exudes Competence Plus Warmth
Traditional Braces
Traditional braces consist of brackets that attach directly to the fronts of your teeth as well as wires that are threaded through brackets and held in place with elastics. The wires will gradually direct teeth into the desired positions, with patients returning to Daily Smiles MacArthur Dental and Orthodontics for regular checkups so that we can provide adjustments. The length of treatment can span anywhere from 14 months to over two years, depending on the severity of the problem at hand.
Traditional braces are highly reliable, durable, and effective – plus, your kids will love picking out their favorite-colored rubber bands to wear with them!
Learn More About Traditional Braces
Invisalign® Clear Braces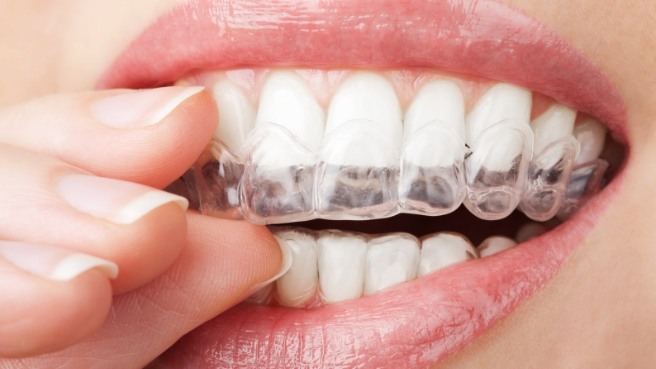 Traditional braces may be a great orthodontic option, but their noticeable metal appearance often isn't good news for image-conscious teenagers and adults. Thankfully, our team offers an alternative that's much subtler and more aesthetically pleasing: Invisalign. As the name implies, Invisalign clear aligners are hardly noticeable when worn, and they'll be able to gradually shift teeth while still allowing the patient to smile with confidence.
When undergoing Invisalign treatment, patients will receive a series of aligners. Each aligner represents a different stage of their smile's changes and should be worn at least 22 hours a day for optimal results. The removable nature of the aligners allows patients to continue eating all their favorite foods and brush and floss like normal. While every case of Invisalign is different, the average length of time this treatment takes is around a year.