Dentures – Irving, TX
Rebuild Your Smile with Dentures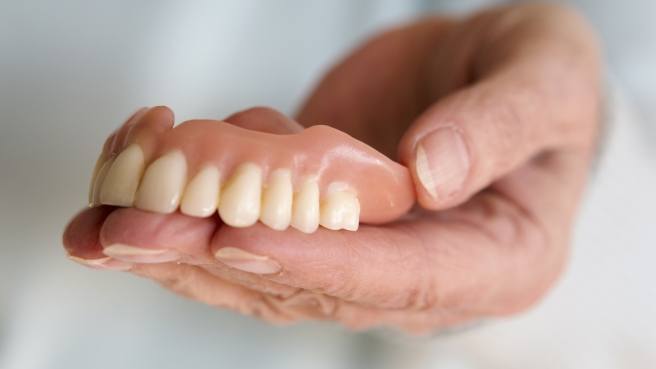 Your teeth are meant to last for a lifetime with the right care over the years. Unfortunately, despite the latest innovations in dentistry, 35 million Americans have lost all their teeth in the top or bottom arch. Dentures in Irving are the most traditional and convenient solution to treat significant tooth loss. Although they have a bad reputation for looking and feeling fake, dentures have come a long way over the last several decades. New materials and methods allow them to closely replicate your natural teeth. We can help you chew, speak, and smile confidently knowing your new teeth look as realistic as possible.
Options for Tooth Replacement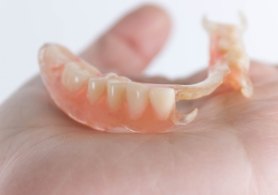 There isn't a "one-size fits all" treatment plan for tooth loss. There are a couple of different options to rebuild your smile depending on your specific needs. After an initial consultation, we'll discuss which solution best meets your needs.
Partial Dentures
If you still have a few healthy teeth, you might be a candidate for a partial denture. We take an impression of your mouth to create replicas of the teeth you've lost. The prosthetics are fixed in a gum-colored base that has a metal framework. This allows the partial to clip or clasp onto your natural teeth to hold it in place.
Full Dentures
An entire arch of missing teeth is replaced using a full denture. Your dentist takes an impression of your mouth to create an acrylic base to hold your replacement teeth. The denture is held to your gum tissue using suction or an adhesive. New technologies and materials now allow it to have a better fit to minimize any slipping or irritation. As an alternative to a traditional denture, you may be able to secure it to your jaw with dental implants.
What are the Benefits of Dentures?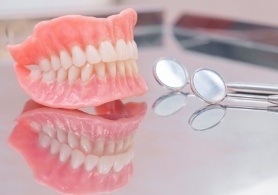 Tooth loss creates more than just aesthetic issues. It can also impact your oral and general health. Not to mention, your quality of life will suffer. Dentures are a great solution to rebuild your smile. You'll enjoy a variety of benefits, including:
Looks natural using high-quality material.
Durable to withstand regular chewing.
Maintain a balanced diet.
Supports your facial tissues for a youthful appearance.
Cost-effective.
Lasts for several years.
How Do I Care for Dentures?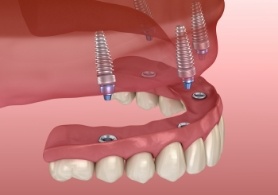 Your dentures will need to be replaced every 5 to 7 years, but there are several things you can do to ensure they last for as long as possible, such as:
Rinse your dentures with cool water after eating.
Handle your dentures carefully.
Clean your mouth well after removing your dentures.
Clean your dentures with a soft-bristled toothbrush daily.
Soak them in a denture solution overnight.
Rinse your dentures with cool water before placing them into your mouth.
Don't expose your dentures to excessive heat.
Don't let your dentures dry out.
Maintain your dental appointments for adjustments and checkups.
Enjoy a Complete Smile!
If you're ready to enjoy a beautiful smile again, we can help. Contact our office today to schedule your consultation for dentures.