Dentures – Irving, TX
Rebuild Your Smile with Dentures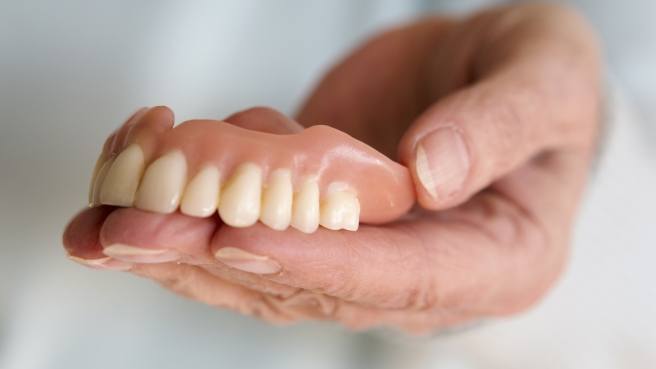 Your teeth are meant to last for a lifetime with the right care over the years. Unfortunately, despite the latest innovations in dentistry, 35 million Americans have lost all their teeth in the top or bottom arch. Dentures in Irving are the most popular and convenient solution to treat significant tooth loss. Although they have a bad reputation for looking and feeling fake, dentures have come a long way over the last several decades. New materials and methods allow them to closely replicate your natural teeth. We can help you chew, speak, and smile confidently knowing your new teeth look as realistic as possible. If you're ready to rebuild your smile with dentures, give us a call to schedule your next appointment.
Types of Dentures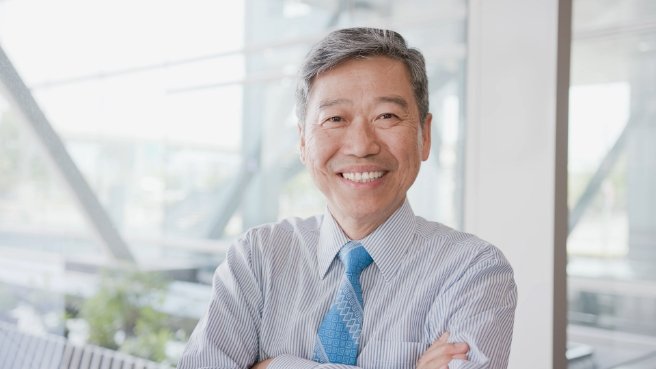 There isn't a "one-size fits all" treatment plan for tooth loss. That's why we offer a couple of different options to rebuild your smile depending on your specific needs. After an initial consultation, we'll discuss which solution may work the best for you.
Partial Dentures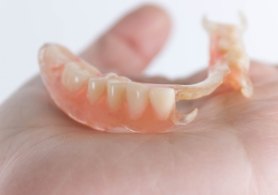 If you still have a few healthy teeth, you might be a candidate for a partial denture. We take an impression of your mouth to create replicas of the teeth you've lost. The prosthetics are fixed in a gum-colored base that has a metal framework. This allows the partial to clip or clasp onto your natural teeth to hold it in place.
Full Dentures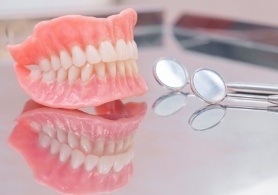 An entire arch of missing teeth is replaced using a full denture. Dr. Hirji will take an impression of your mouth to create an acrylic base to hold your replacement teeth. The denture is held to your gum tissue using suction or an adhesive. New technologies and materials now allow it to have a better fit to minimize any slipping or irritation. As an alternative to a traditional denture, you may be able to secure it to your jaw with dental implants.
Implant Dentures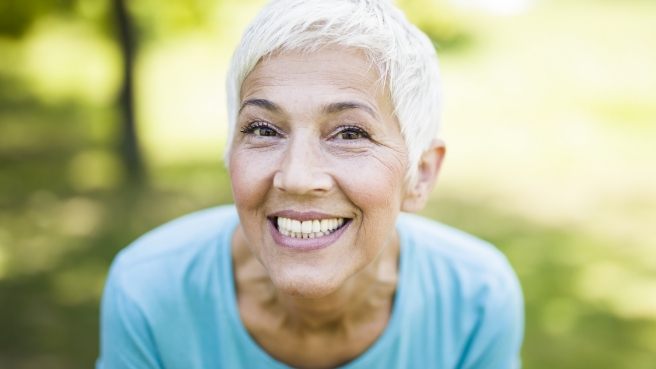 As an alternative to traditional removable dentures, we are now proud to offer implant dentures in Irving. We'll insert several small metal posts called dental implants into your jawbone to replace the roots of your missing teeth. Once they've healed, they'll be used to support a partial or full denture. These dentures can snap onto or off of the dental implants or remain permanently in place, and either option will feel, look, and function just like a natural smile.
Who Is a Good Candidate for Dentures?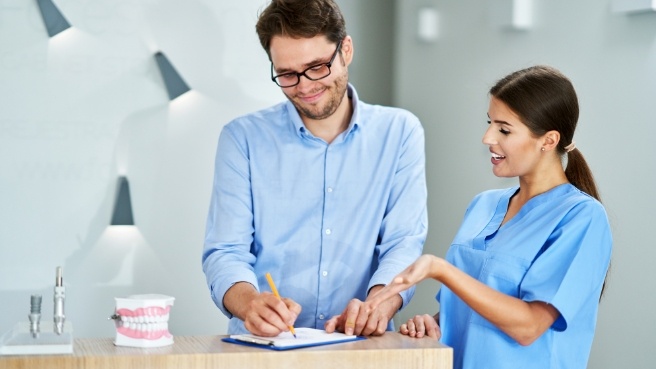 If you are an adult with moderate to severe tooth loss, then there's a very good chance that you're a good candidate for dentures. Nearly all patients who are missing most or all their teeth qualify for traditional removable dentures right away as long as they are free of oral health issues like decayed teeth or gum disease. If you're interested in implant dentures, you'll also need to be well enough to undergo minor surgery and have adequate jawbone density. Once we evaluate your oral health during your consultation, we'll fully explain all your treatment options.
The Benefits of Dentures
Tooth loss creates more than just aesthetic issues. It can also impact your oral and general health. Not to mention, your quality of life will suffer. Dentures are a great solution to rebuild your smile. You'll enjoy a variety of benefits, including:
A natural appearance using high-quality materials.
Durable enough to withstand regular chewing.
Maintain a balanced diet with a full set of teeth.
Supports your facial tissues for a youthful and fuller appearance.
Cost-effective tooth replacement solution.
Lifespan of up to seven years with regular care (or a lifetime for implant dentures)
Understanding the Cost of Your Dentures
The cost of your dentures can vary greatly depending on a variety of factors, such as whether you receive full or partial dentures and what materials they're made of. Once Dr. Hirji examines your mouth, we can walk you through all of your treatment options and discuss any desires you have for your new, restored smile. Our team happily accepts all PPO dental insurance plans and always makes sure to maximize your benefits. We also offer additional financing through CareCredit. Dentures are one of the most cost-effective ways to regain a complete, confident smile! Give us a call today to schedule your consultation and get a personalized estimate.
Factors that Affect the Cost of Dentures
All of our dentures are custom-made to meet the unique goals and needs of every patient. This means that the cost of your dentures in Irving will depend specifically on what you want out of your new smile, not based on a one-size-fits-all restoration that anyone can get. Here are the three biggest factors that will influence the final price of your dentures:
Preparatory procedures: It's important that your mouth is healthy before we start replacing your teeth. If you need to complete gum disease treatment or have a tooth extracted beforehand, these preparatory procedures will add to the final cost.
Materials used: Dentures that cost less than ours are typically made of lower-quality materials. These cheaper alternatives may initially cost less, but they offer a shorter lifespan, less comfort, and less aesthetically-pleasing results. We only use high-quality dental porcelain and acrylic to create the most lifelike and dependable dentures.
Type of denture: Naturally, the more teeth you need to have replaced, the more you can expect to pay. Replacing several teeth with a partial denture requires less material than replacing an entire arch of teeth with a full denture, and therefore will cost less.
Are Implant Dentures More Expensive?
If you choose to have your dentures secured in place by dental implants, you can typically expect the cost to be much higher. However, even though implant dentures are initially more expensive than traditional dentures, they can sometimes become the more cost-effective option in the long run. Implant dentures have the potential to last a lifetime with the right care, which can save you a tremendous amount of money on replacements. They also help prevent future tooth loss and oral health issues, which will lower the overall cost of caring for your smile. Plus, patients agree that the quality of life implant dentures can restore is priceless. If you're interested in implant dentures, we'll be happy to discuss all your options for making them affordable.
Does Dental Insurance Cover Dentures?
Every dental insurance policy is slightly different when it comes to what is covered and by how much. However, most consider dentures to be a major restorative treatment, which is a category that is typically covered by 50-80% depending on the details of your plan. When you visit us for a consultation, we'll be happy to go over your insurance with you to see how much of your treatment will be covered. Our talented team has years of experience helping our patients maximize their dental benefits and minimize their out-of-pocket expenses.
Other Options for Making Dentures Affordable
Dentures can be an affordable option even if you don't have dental insurance! If you are uninsured or unhappy with your insurance coverage, you may be interested in applying for CareCredit financing. This third-party company offers low- to no-interest payment plans that most patients qualify for. This way, you can break up the cost of your dentures into smaller, more manageable chunks that fit into your monthly budget. You can apply for CareCredit here, or feel free to call our Irving office to learn more.
Maintaining & Caring for Your Dentures
Your traditional removable dentures will need to be replaced every five to seven years, but there are several things you can do to ensure they last for as long as possible, such as:
Rinse your dentures with cool water after eating.
Handle your dentures carefully.
Clean your mouth well after removing your dentures.
Clean your dentures with a soft-bristled denture cleaning brush daily.
Soak them in a denture solution overnight.
Rinse your dentures with cool water before placing them into your mouth.
Don't expose your dentures to excessive heat.
Don't let your dentures dry out.
Maintain your dental appointments for adjustments and checkups.
On the other hand, implant dentures don't require any special care. Simply brush, floss, and rinse with mouthwash regularly to keep your oral hygiene on track, and avoid bad habits like chewing on ice, smoking, and eating too many sugary foods. You'll also still need to come visit us every six months for regular checkups.
Dentures FAQs
After reading all of the information above, do you still have questions about getting dentures in Irving? Our team at Daily Smiles MacArthur is here to help you feel confident in your tooth replacement decision, which is why we've answered some of the most common questions that we receive from our patients below. If you don't see the information you're looking for, feel free to contact us!
How Long Will It Take to Get My New Dentures?
The process of getting new traditional dentures typically takes place over the course of several weeks and about four to five appointments. This timeline includes the following processes:
Impressions of your mouth
Measuring your bite and building a wax model
Trying on your new denture
Making any necessary adjustments to your permanent denture
Teaching you how to maintain your dentures
The process for getting implant dentures requires a bit more time, taking several months to a year to complete. Whichever option you choose, we'll walk you through it all beforehand and give you an estimate of how long it might take to get your new dentures.
Will My Dentures Look Unnatural?
Today, dentures are made from high-quality materials that have been customized and color-matched to look completely natural. From the gum-colored acrylic base to the enamel-colored ceramic replacement teeth, you can rest assured that they will incorporate perfectly into your smile.
How Long Does It Take to Adjust to Wearing Dentures?
As a general rule of thumb, most patients undergo a 30-day adjustment period when they get their new dentures. Here are some ways you can speed up this process and feel more comfortable with your restorations:
Have realistic expectations
Start with soft foods and graduate to smaller bites of food
Rinse your mouth with warm salt water regularly
Expect a longer denture adjustment if you needed to undergo a tooth extraction
Practice speaking with your dentures in by reading aloud or singing in the shower
Utilize denture adhesive to stabilize your dentures
If you choose to get implant dentures, you'll need to wait three to six months after dental implant surgery before your new denture can be placed. However, once it's been anchored onto the dental implants, most patients need next to no time to adjust to their new implant dentures!
How Much Denture Adhesive Should I Use?
Denture adhesive is strong stuff, so you don't need a lot of it. In fact, when you're applying it, you want to avoid using an excessive amount that can cause it to ooze out, because then you'll need to restart the process. The best way to apply the adhesive is in a series of small dots or lines, being sure to avoid getting it too close to the edge of your denture. You'll only need to apply it once a day. You won't need any denture adhesive for implant dentures.
Enjoy a Complete Smile!
If you're ready to enjoy a beautiful smile again, we can help. Contact our office today to schedule your consultation for dentures.