Implant Dentures – Irving, TX
Complete Smiles for Healthier Living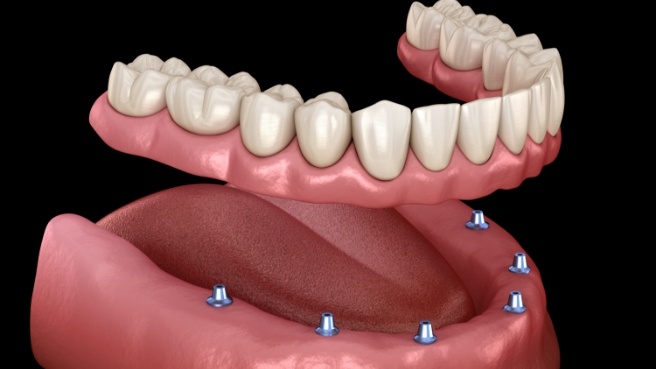 At Daily Smiles MacArthur Dental and Orthodontics, Dr. Hirji understands the challenges that can come with traditional dentures. Offering functionality and a complete smile, they lack the necessary bite strength, aesthetic, and longevity. This is why implant dentures in Irving are such as popular and highly recommended option. Providing patients with the only root-to-crown restorative solution, individuals can experience a full smile that leads to a healthier life. Contact us today to schedule a consultation to learn if you're a candidate.
What Are Implant Dentures?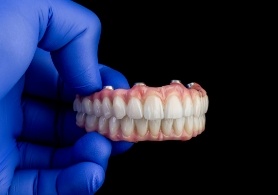 Unlike regular dentures that rely on your natural suction and denture adhesives to hold them in place, implant dentures are surgically placed into the jawbone for optimal stability. They mimic the natural tooth structure and fuse with the bone, so teeth look and act just like those already in the mouth. Implant dentures are held into place using between four and six implant posts, and they are known to provide optimal functionality when it comes to eating, speaking, and smiling.
During your initial consultation with your implant dentist in Irving, we'll go over the two types of dentures you can choose from: fixed or removable.
Fixed/Permanent Implant Dentures
Considered a hybrid denture, this fixed version requires ample jawbone density to support the 4-6 posts that are placed into the jawbone. This type of denture is permanently secured, which means no one can remove it except a skilled implant dentist.
Removable Implant Dentures
Referred to as a "Snap-On Denture," these are removable dentures that can easily be taken out prior to cleaning. They do not require as much jawbone density and only need between 2 and 5 implant posts to ensure stability.
The Implant Denture Process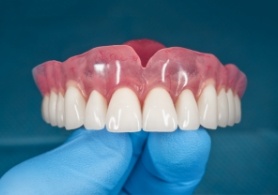 Every patient must complete the following steps when undergoing dental implant placement. This includes:
Initial Consultation – This involves meeting with Dr. Hirji to discuss your candidacy as well as any preliminary treatments you might need, such as bone grafting, periodontal therapy, etc.
Dental Implant Surgery – You will be referred to an implant specialist outside of our office who will perform the surgical procedure. This includes local anesthesia and the placement of each implant into the designated socket.
Osseointegration/Abutment – Once you return home, you'll be required to spend 3-6 months allowing osseointegration to occur, which is the fusing of the bone and implant posts. This process allows for the creation of a firm foundation for your new smile. After several months, you'll return to our office to receive your metal abutments.
Final Delivery of the Restoration – Your implant denture will look lifelike because of the materials used to create it. Once secured in place, you can expect to start enjoying your favorite foods as well as embrace a better quality of life.
Am I a Candidate for Implant Dentures?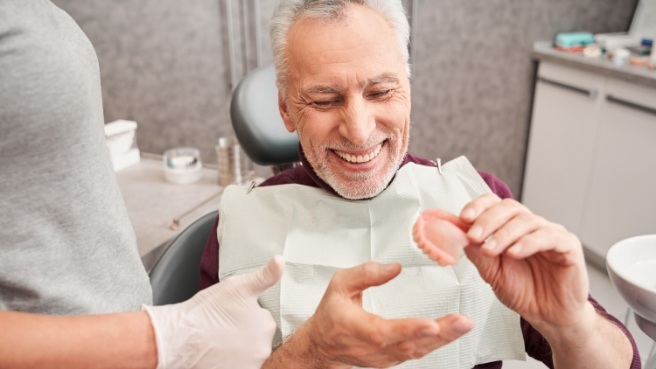 The only way to know for sure if you're a candidate for implant dentures is to schedule a consultation with our team. Dr. Hirji will examine your smile using advanced dental technology that looks beyond the visual components of your smile. Formulating a treatment plan based on the findings, your oral and overall health will be considered, as you do not want to have any problems or health issues that could lead to dental implant failure.
You can rest assured that even if you are not cleared for surgery right away, there's a good chance you can pursue dental implants in Irving after receiving preliminary treatment.
Benefits of Combining Dentures & Dental Implants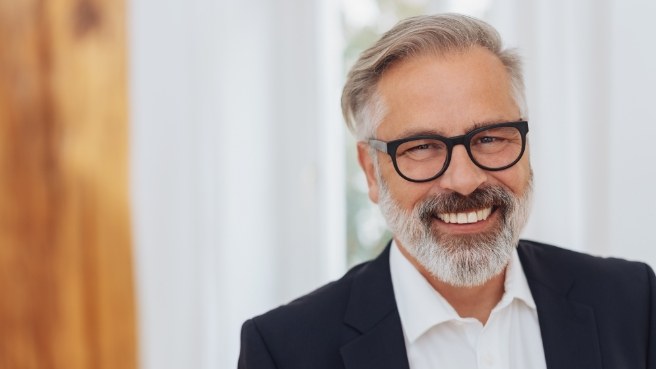 There are many benefits that come with combining dentures and dental implants, some of which include:
The ability to eat nutrient-rich foods that not only positively impact your smile but also your body
A reduced risk of systemic issues commonly caused by tooth loss (i.e., osteoporosis, diabetes, heart disease)
Greater jawbone stimulation
Improved bite force and chewing power
A more youthful aesthetic and greater confidence
The ability to speak with greater clarity