Dental Crowns – Irving, TX
Dental Crowns Revitalize Your Smile's Strength
When you have a tooth that's chipped, broken, or severely decayed, life can feel a little more difficult as a result. At Daily Smiles MacArthur Dental and Orthodontics, our dentist wants to lend a helping hand as soon as possible in the form of restorations like dental crowns. This type of treatment is designed to restore dental structure so that it is durable and functional, helping you rely on your smile wholeheartedly once more. We offer this restorative dentisry service to all ages when needed, so don't hesitate to contact us and schedule a visit for dental crowns in Irving.
Why Choose Daily Smiles MacArthur Dental and Orthodontics for Dental Crowns?
Dental Crowns Made of Various Materials
Our Focus is on Our Patients' Needs
Precise Treatment Planning for Accurate Results
What Is a Dental Crown?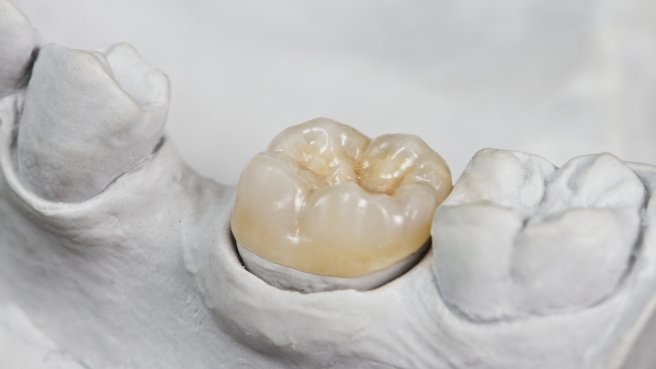 Dental crowns (also sometimes referred to as "caps") are individual dental restorations that are designed to cover the entire visible surface of a single tooth. The use of a crown has a two-pronged effect – it both protects what remains of the natural structure and rebuilds the tooth's original shape and strength. Our dentist may recommend this restorative solution in the following situations:
When a tooth has experienced a serious injury.
When a tooth's filling is failing and cannot be replaced by a new one.
When a cavity is too large to be treated with a regular filling.
When a tooth has a serious cosmetic imperfection.
When a tooth has become weakened and is at risk for fracturing.
When a single dental implant needs to be restored.
When a tooth has been treated with root canal therapy and needs coverage.
In most cases, a new, custom-made dental crown will require two appointments to be completed. During the first visit, our dentists will capture detailed impressions of the affected tooth/teeth and then place a temporary crown. Then, once we receive the finished restoration from our trusted dental laboratory, we'll make final adjustments before cementing it securely in place.