May 21, 2020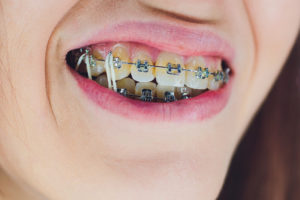 Orthodontic treatments may seem complicated when you first learn about all of the components, but they work together to provide you with the best, long-lasting results. If you're looking into getting braces in Irving, you'll likely need to wear elastics, also known as rubber bands, to help align your bite and jaw. This allows traditional braces to be more effective at fixing severe overbite, underbite, crossbite, and open bite than Invisalign trays. Read on to learn more about elastics and how they work to improve your oral health and bite problems.
What are Elastics Used For?
For most patients, elastic bands are a vital part of their orthodontic treatment in addition to their archwire and brackets. They are used to alter the bite and jaw position to correct mild to severe bite misalignment. They're connected to the top of brackets with small hooks on both the upper and lower arch of teeth. Not every patient who gets braces from their cosmetic dentist in Irving needs to wear rubber bands while undergoing their treatment. The best way to find out if you will need to is to schedule an orthodontic consultation so your dentist can examine your mouth and let you know what problems you face.
How Often Do You Need To Wear Elastics?
Depending on the severity of your bite and how long your treatment timeline is will determine how long you'll need to wear your rubber bands for. It's important to wear them between 22 hours and 24 hours each day, only taking them out to brush and floss your teeth, eat, and replace your old elastics with new ones.
When Should You Replace Elastics?
You should replace your elastics at least once a day so they don't lose their tension and stop correcting your bite problem. Once they become ineffective due to overuse, they can set back your treatment timeline. Switching them out daily is important in order to achieve the results that you're hoping for. It's a good idea to get in the habit of replacing them at the same time every day to make sure that you don't forget.
How Do I Put On Elastics?
When you first start wearing your rubber bands, it's going to be difficult to put them on. However, once you get in the hang of it, you should have no problems. Your dentist will be able to show you how to easily put your elastics on, but a good rule of thumb is to use your thumb and index finger while standing in front of a mirror. If you still struggle with putting them on after a couple of weeks, try speaking with your dentist about getting a bigger size.
Before you get your braces put on, your dentist will discuss how you can take care of them and some basic maintenance tips. With the right care and regularly switching out your elastics, you'll be able to stay on track with your timeline and correct your orthodontic issues faster.
About the Author
Dr. Rafiq Hirji has over a decade of experience helping his patients achieve straighter and healthier smiles. He regularly completes advanced education courses in a variety of specialties, including orthodontics, cosmetic dentistry, and pediatric dentistry. This allows him to provide his patients with the highest quality of dental care, no matter what their unique needs are. For questions or to schedule a consultation to learn more about traditional braces, visit Daily Smiles MacArthur Dental and Orthodontics' website or call 972-546-4114.
Comments Off

on The Complete Guide To Wearing Elastics With Braces
No Comments
No comments yet.
RSS feed for comments on this post.
Sorry, the comment form is closed at this time.