June 5, 2020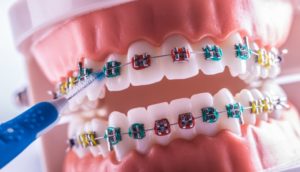 As soon as you leave your dentist's office with your new braces in Irving, the excitement may quickly wear off once you realize that having them in your mouth means that you'll need to make a few daily adjustments to your life. Although it sounds stressful, rest assured that braces are well worth the effort, and by the time your treatment is over, you'll be able to enjoy a healthier and more beautiful smile. Read on for three helpful tips to get you through the first week of living with your braces.
Master Your Oral Hygiene Routine With Braces
There are tons of new cracks and crevices in your mouth now that you have brackets and wires surrounding your teeth. This can make it difficult to properly brush, especially if you're not used to maneuvering around your orthodontic appliance. During the first week, you'll need to be diligent about keeping up with your oral hygiene routine in order to set the tone for the rest of the process. Here are some basic helpful tips about brushing with braces to learn:
Flip your lip so you can see your gums and start on your top teeth at the gum line.
Use circular motions and spend about 10 seconds on each tooth.
Work your way down the teeth.
Brush your tongue and the roof of your mouth.
Brush for at least two full minutes.
The same thing goes for flossing as well! Fortunately, you can find easy-to-use orthodontic flossing picks at your local pharmacy or department store to make it easy to reach underneath your archwires and around your brackets.
Keep Talking
Some people notice that they begin to talk funnily after they get braces and start producing more saliva. If this happens and makes you nervous, know that within a week or so, the effects should wear off once you get used to having them in your mouth. One great way to get through this adjustment sooner is to keep talking whenever possible when you're at home alone. This will help your mouth get used to the way your braces feel, faster.
Pack a Braces Essential Travel Kit For Wherever You Go
Frequently and regularly maintaining your oral health when you have braces is so important. You want to avoid the formation of cavities or other oral health problems throughout your treatment, so that once you get them taken off, you can enjoy the results that you've been able to achieve. Putting together a braces essential travel kit to keep in your car or on you at all times is a great way to do this. Here are some items to include:
Orthodontic wax
Travel toothbrush
Travel toothpaste
Orthodontic flossers
Mouthwash
Ibuprofen
If you have any trouble or complications throughout your adjustment period, don't hesitate to contact your cosmetic dentist in Irving. They'll provide you with a list of helpful tips and tricks to make sure that you remain comfortable while you're first getting used to your orthodontic appliance.
About the Author
Dr. Rafiq Hirji has over 10 years of experience providing high-quality dental and orthodontic care. He pursues advanced education courses whenever possible and has gained a variety of clinical skills in specialty services, such as orthodontics, pediatric dentistry, and sedation. For questions or to schedule an appointment, visit Daily Smiles MacArthur's website or call 972-546-4114.
Comments Off

on 3 Helpful Tips For The First Week of Living With Braces
No Comments
No comments yet.
RSS feed for comments on this post.
Sorry, the comment form is closed at this time.