July 10, 2020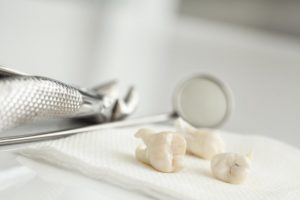 The thought of needing a tooth extraction in Irving can be scary and daunting, especially if you don't know what to expect. However, in certain severe dental emergencies, this procedure can help save your smile by creating a healthier foundation for your remaining natural teeth. That way, instead of leaving the problem to develop and risking your oral health, you can restore and reduce the damage to your smile. Read on to learn about three situations in which you may require a tooth extraction from your emergency dentist.
Impacted Or Crowded Teeth
Wisdom teeth, also known as third molars, often cause patients pain and discomfort if they're stuck below the gums or don't have enough room to healthily grow in. In these cases, your emergency dentist in Irving will likely suggest having them extracted. If you don't, it could increase your risk of several oral health problems down the road, including:
Causing other erupted teeth to become crowded.
Bite misalignment.
Cysts forming in the jaw.
Increased risk of infection.
Sinus pain, pressure, and congestion.
Inflamed gums.
Increased risk of cavity formation.
Not only can removing your wisdom teeth help you avoid needing orthodontic treatment or other medical procedures down the road, but it can also help ease your discomfort as well.
Severe Dental Trauma
Accidents and dental decay can cause a tooth to become severely damaged, leaving little dental structure left to salvage. Your emergency dentist will do everything in their power to preserve your natural tooth, because they understand that you only get one shot to save it. However, some situations are simply too severe to fix. In these cases, they'll likely suggest extracting the damaged tooth in order to prevent additional oral health problems from developing.
Painful Infection
Tooth infections are known to cause severe toothaches that keep you up at night and prevent you from being able to focus on daily tasks. Although some can be treated with root canal therapy and a protective crown, that's not the case for all infections. When treatment is delayed, the tooth can go numb, which is a sign that the root may be dead. Leaving an infected tooth in your mouth could cause the problem to spread to other surrounding teeth, which is why your dentist will likely suggest extracting it.
Although having your tooth removed may make you feel anxious and like you'll never be able to regain your natural smile, it's usually the best option if your emergency dentist suggests it. They offer a variety of restorative services, such as dental implants, to help rebuild you smile, so it'll be as though you've never lost a tooth.
About the Author
Dr. Rafiq Hirji has over a decade of experience providing high-quality dentistry. He is committed to offering comfortable treatment, which is why he offers oral conscious and nitrous oxide sedation. He has also taken advanced courses in pediatric dentistry and orthodontics, allowing him to provide a variety of specialty services. For patients who find themselves in emergency situations, he also offers fast urgent treatment as well. For questions or to schedule an appointment, visit Daily Smiles MacArthur's website or call 972-546-4114.
Comments Off

on 3 Reasons You May Need a Tooth Extraction
No Comments
No comments yet.
RSS feed for comments on this post.
Sorry, the comment form is closed at this time.