July 13, 2020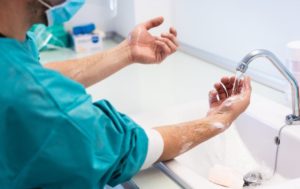 According to the Centers for Disease Control and Prevention, hand hygiene is essential for COVID safety in Irving. To prevent the spread of the virus while also ensuring that everyone receives the dental care they need, they've implemented a number of new ways to make sure that their hands are always germ-free. Because the virus is predominantly spread through cross-contamination of unwashed hands, this is one of your dental team's key focuses on stopping COVID-19 from spreading in their community. Read on to learn more about the specific practices they're doing daily to keep you safe.
How Are They Washing Their Hands?
Your dentist in Irving has strict handwashing guidelines that are based off of the highest standards of infections control. Since they come into contact with so many people over the course of the day, it's important that they avoid contact whenever possible and make sure that their hands are always germ-free, especially since they'll be near so many mouths. They're able to do this by following these handwashing rules:
Lightly wetting their hands and generously lathering the soap for at least 20 seconds.
Taking time to scrub between the fingers, under the nails, and up the forearms, using warm water.
Drying their hands with a paper towel to eliminate any moist areas on their hands that could still contain microorganisms.
Frequently washing their hands throughout the day to ensure they're always clean.
Opening door handles or turning off water faucets using a paper towel to prevent reinfection.
When Are They Washing Their Hands?
Your dentist is also making sure that they frequently and regularly wash their hands throughout yours and other patients' appointments. Even if they have gloves on, your dentist and hygienist will wash during each of these moments:
Before they come into contact with a new patient.
Whenever they enter or leave the treatment area.
After removing gloves.
Before putting on a new pair of gloves.
After touching any patient's skin.
Are They Regularly Changing Their Gloves?
Since washing latex gloves can cause micro punctures in them, your dentist will be changing them out between each appointment and every time they leave the treatment room to reduce the chance of infection. They'll also be washing their hands before putting the gloves on and after taking them off to make sure that if there is damage on the glove, their hands will still be completely germ-free.
How Else Are They Putting Their Patients' Safety First?
In addition to your dentist's thorough hand hygiene habits, they've also implemented 21 additional safety protocols during the COVID-19 crisis to prioritize your health and wellbeing. Some of these include at-risk patient hours, wearing all PPE, and thorough sanitation between appointments. With each of these measures in place, you'll be able to rest-assured that you can take care of your oral health without having to jeopardize your physical wellbeing.
About the Author
Dr. Rafiq Hirji has been practicing dentistry for over a decade. He regularly completes advanced education courses to stay up-to-date with the latest advancements in his field and provide a variety of specialty services. He is currently accepting appointments for new and existing patients and has implemented nearly two dozen safety measures in response to the emergence of COVID-19. For questions or to learn more, visit our website or call 972-546-4114.
Comments Off

on How Is Your Dentist Making Sure Their Hands Are Germ-Free?
No Comments
No comments yet.
RSS feed for comments on this post.
Sorry, the comment form is closed at this time.