August 28, 2020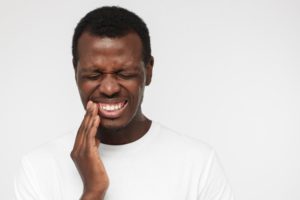 If you have a severe toothache in Irving, the chances that it's going to go away on its own are slim to none. However, in certain cases, toothaches may disappear. If you experience this, it should raise red flags instead of provide you with relief. If you have a toothache that has mysteriously disappeared, you should contact your emergency dentist right away. Read on to learn what a disappearing toothache could mean for your oral health.
Causes of a Disappearing Toothache
Sometimes, patients feel tempted to see if their oral pain goes away on its own in order to save themselves from an unexpected visit to their emergency dentist in Irving. The problem with this logic is that if an untreated toothache is left alone for too long, it could cause even bigger issues.
Toothaches are typically a sign of an infection, which occurs when an untreated cavity burrows its way into the inside of your tooth, providing harmful oral bacteria with access to the more sensitive and vulnerable layers beneath the enamel. If it's not treated at this point, the bacteria can attack and kill the pulp inside of your tooth, which is a cluster of tissue and nerves, causing your toothache to suddenly disappear. If the infection works its way into the bone, you may notice that your toothache reappears. At this point, the only treatment that could stop it is likely to have the tooth removed before the infection can spread to other areas of the body.
Taking Steps to Save Your Tooth
To save your tooth and prevent this problem from ever occurring again, it's important to follow these steps:
Contact your emergency dentist as soon as you notice a toothache.
Visit your dentist for routine checkups and cleanings every six months.
Brush and floss every day.
If you've had a toothache that you've been putting off seeking treatment for, call for emergency dentistry in Irving now.
Don't Be Afraid To Hear The Words "Root Canal"
The best-case treatment scenario if your toothache has disappeared is a root canal. Although these have been misconceived as being painful, they actually help relieve your discomfort and preserve your natural tooth. Before the treatment takes place, your emergency dentist will administer a local anesthetic to the area to make the process completely painless. They'll then access the inside of your tooth and remove all of the infected pulp and sanitize the area. After rebuilding the structure of your tooth with a substance called gutta percha, they'll top it off with a dental crown to provide it with lasting protection.
If you're hesitant about visiting your emergency dentist, just remember that you'll likely be saving yourself from a costly and invasive procedure the sooner you get your toothache treated. In the end, your comfort and the preservation of your natural teeth are the most important things to consider.
About the Author
Dr. Rafiq Hirji has over a decade of experience treating complex and urgent dental emergency situations. He aims to make all of his urgent care patients feel comfortable and relaxed in the treatment chair. He even offers nitrous oxide sedation for patients who feel nervous and anxious when they arrive. For questions or to schedule an emergency appointment for as soon as possible, visit our website or call 972-546-4114.
Comments Off

on A Disappearing Toothache Isn't Always Good News, And Here's Why
No Comments
No comments yet.
RSS feed for comments on this post.
Sorry, the comment form is closed at this time.