October 20, 2020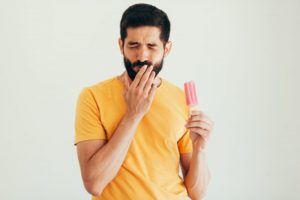 A recent survey of dental practices in the United States found that one out of every eight patients has sensitive teeth. In some cases, sensitivity can be a sign of an even larger issue, such as an infection. It can also be caused by a less severe problem that can be managed with changing up the oral hygiene products you use at home. No matter the case, it's always a good idea to get it checked out by your dentist in Irving. Read on to learn more about dental sensitivity and what it means for the health of your smile.
Symptoms of Dental Sensitivity
To determine the severity of your dental sensitivity, it's a good idea to be mindful of other symptoms you may also be experiencing alongside it. Take into account (and write down) details such as how frequently your sensitivity occurs and how strong the pain is. Does it only happen when you eat something that's sweet or cold? Questions like these are important to take into account so you can get to the root cause of the issue and determine whether a visit to your emergency dentist in Irving is necessary. Some other signs that patients may experience alongside this issue that may require urgent treatment include:
You notice that your molars appear flat and ground-down.
You notice a pimple-like bump on your gums.
You notice a visible cavity.
The Causes of Sensitive Teeth
There are a variety of problems that can cause sensitive teeth, including some of the following:
Brushing too hard or with a hard-bristled toothbrush (soft-bristles are the best!).
Eating too much acidic food that results enamel erosion.
Grinding your teeth caused your protective enamel to erode.
You've been consistently using whitening toothpaste.
Frequently rinsing your mouth with alcohol rinse.
Gum disease has caused more of the root structure of your teeth to be exposed.
Plaque buildup has resulted in enamel erosion.
A tooth is cracked, fractured, or damaged.
A dental crown or filling is leaking.
A Few Ways Your Dentist Can Help
No matter the cause, it's always a good idea to visit your dentist in Irving when you experience persistent tooth sensitivity. They'll take X-rays of your mouth and conduct a thorough visual examination of your teeth and gums to determine the underlying issue. If it's just due to enamel erosion, they may suggest fluoride treatment or changing up the oral hygiene products you use at home. If it's due to a more serious progressing problem, like a tooth infection, you may require a root canal. Either way, the best way to keep the damage from progressing is to take the advice of your trained professional!
About the Author
Dr. Rafiq Hirji has over a decade of experience in his field. He's passionate about helping his patients maintain great oral health by addressing small issues, like dental sensitivity, before they have the ability to progress into ones that require serious treatments. He enjoys getting to know his patients and helping them feel comfortable in the practice so they always look forward to visiting him every six months! For questions or to schedule an urgent appointment, visit Daily Smiles MacArthur's website or call 972-246-4114.
Comments Off

on What Does it Mean if Your Teeth Are Sensitive?
No Comments
No comments yet.
RSS feed for comments on this post.
Sorry, the comment form is closed at this time.