October 21, 2020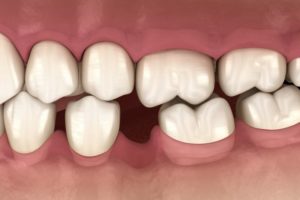 Teeth shifting isn't an uncommon occurrence for many people. As you age, oral health problems, life events like accidents, and poor dental hygiene can impact the health and alignment of your pearly whites. Fortunately, if you've noticed this happening, there are ways you can treat it. Read on to learn the five major causes of misaligned teeth and how you can get the issue addressed.
1. Effects of Natural Aging
Just like how you may gain a few wrinkles as you get older, you'll also notice that your oral structure and smile will change. This is because, as you age, the ligaments, muscles, and bone that support your smile and keep it functional will naturally grow weaker. As this happens, teeth can become loose, your bite can shift, and contracting lips can create pressure on your arch of teeth, pushing them inward.
2. Bruxism, or Teeth Grinding
Some people grind and clench their teeth throughout the night, which is a condition called bruxism. The intense force and pressure this creates has the power to shift your teeth out of alignment as well as change their shape.
3. Tooth Loss
Permanent tooth loss can occur for a variety of reasons, like a sporting accident or injury, poor oral health, or medical conditions that make it hard to take care of your teeth and gums. Whether you have one or several gaps in your smile, your existing teeth will begin to gradually shift to fill in those spaces, causing misalignment.
4. Gum Disease
Gum disease is one of the most common oral health problems that Americans face according to the Centers for Disease Control. As the condition progresses, it will cause permanent damage to the bone that supports your oral structure and gum tissue recession, leading to the shifting of your teeth.
5. Osteo Changes
As you age and your body begins to change, the mineral content in your bones throughout your entire body, including your jawbone, will decrease. The roots of your teeth are anchored to this important structure, and as it weakens, your teeth's connection to a stable foundation can wane, resulting in shifting teeth.
Treating Misaligned Teeth
Whether you're still young when these issues occur or you're more mature, know that it's never too late to address orthodontic problems like misaligned and shifting teeth. Fortunately, today, you have different treatment options to choose from, such as Invisalign and braces in Irving. To learn more about how your dentist can straighten your smile and help restore your oral health, visit them for an orthodontic consultation today!
About the Author
Dr. Rafiq Hirji is a knowledgeable and passionate dentist with over a decade of experience under his belt. He has completed advanced training in a wide range of specialty services, including orthodontics, to be able to provide all of his patients with amazing results and comprehensive dental care. He enjoys getting to treat children, teens, adults, and seniors, and is dedicated to improving his patients' quality of life. To schedule an appointment for an orthodontic consultation, visit Daily Smiles MacArthur's website or call 972-546-4114.
Comments Off

on The Top 5 Causes of Shifting Teeth
No Comments
No comments yet.
RSS feed for comments on this post.
Sorry, the comment form is closed at this time.