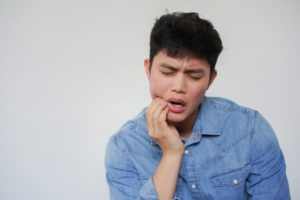 Did you put off getting a root canal in Irving when you had a severe toothache until your pain suddenly disappeared? Even though it may seem like the problem fixed itself on its own, that may not actually be the case. When left untreated, infections usually only become worse, not better. Read on to learn three reasons why your toothache went away, but you still need a root canal.
The Pain is Beyond Your Body's Threshold
When you leave a tooth infection to progress, your pain will most likely get worse before it disappears. However, in some cases, the pain gets so bad that it goes beyond your body's threshold to process it. Even if it disappears, when you visit a dentist, they'll be able to see the infection inside of your tooth on your X-ray to be able to tell whether the problem miraculously disappeared (which isn't likely), or if it's still a serious problem that needs to be dealt with.
The Infection Has Spread Beyond Your Mouth
Tooth infections, like all other infections in the body, can spread when they're left untreated. They can make their way to other teeth or even release chemicals that enter your blood stream, providing them with access to the rest of your body. This makes your body go into overdrive attempting to fight off the infection, resulting in inflammation that can cause vital organs to become damaged. That's why if you're experiencing low blood pressure, a fever, or fast heart rate after a toothache disappears, you'll need to head directly to your local emergency room for urgent medical attention.
The Pulp in Your Tooth is Dead
The pulp inside of your tooth is made up of thousands of nerves and soft tissue. The reason why most people who get tooth infections first notice them when they have severe pain is because at this point, harmful oral bacteria have gained access to the inner chamber of the tooth, where the pulp is housed. After not being treated for some time, the infection can actually kill the pulp, causing your toothache to go away completely. At this point, it's crucial for you to visit your emergency dentist in Irving before the infection has a chance to spread.
If you're ever in doubt about your oral health and feel like something's just not right, listen to your gut and call your emergency dentist immediately. Even if you start to feel better, that's not always a sign that the issue disappeared!
About the Author
Dr. Rafiq Hirji has over a decade of experience in the dental field. He understands that dental emergencies always happen at the least convenient times, which is why he offers easily-accessible appointment hours six days a week. He has completed advanced training courses in a variety of specialty services, including pediatric dentistry and level 2 sedation. If you're experiencing a toothache or wondering why your pain suddenly disappeared, contact our office immediately by calling 972-546-4114.