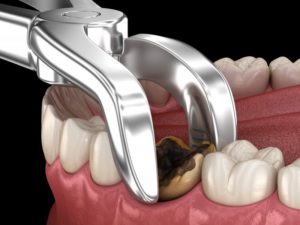 Tooth extractions are rarely the go-to treatment for emergency dentists because they know that there's no substitution quite like natural teeth. However, in some situations where a tooth is severely damaged or decayed, the benefits of a tooth extraction in Irving outweigh the downsides. Read on for four advantages of removing a problematic tooth.
Prevent Infections from Spreading to Surrounding Teeth
Cavities form when harmful oral bacteria overrun your mouth and produce acid that erodes your enamel. When this protective structure of the tooth deteriorates, it can provide the bacteria access to the vulnerable inner chamber of your tooth, where the pulp is hidden. Once this happens, an untreated cavity can easily turn into an infection that causes a severe toothache. If the infection isn't treated, it can kill the pulp in your tooth and cause the pain to disappear. At this time, your emergency dentist in Irving may suggest removing the tooth to keep the infection from spreading to surrounding teeth.
Reduce Your Risk of Developing Additional Oral Health Problems
If you have too many teeth that create crowding, removing it can help you maintain good oral health by eliminating hard-to-reach nooks and crannies that can accumulate plaque and tartar. By getting a tooth extracted, you can undergo orthodontic treatment and achieve an aligned row of pearly whites that are easier to clean. That way, you can reduce your risk of cavities and gum disease.
Ease Your Pain & Discomfort
Teeth that are severely damaged or crowded can cause you discomfort. Sometimes, the only way to ease your pain is to remove the troublesome tooth and replace it with a healthy prosthetic. That way, you can continue enjoying a functional and complete smile without having to worry lingering discomfort that affects your day-to-day life.
Address Overcrowding Problems
If you have crowded teeth, the only way to ensure that you get ideal, lasting results from orthodontic treatment is to remove one or more of them and provide your existing teeth more space to shift into their ideal positions. If you don't, they may shift back into their original, crowded positions after you've invested so much time and money into orthodontic treatment.
If you have concerns about getting a tooth extraction, don't hesitate to ask your emergency dentist more questions about the treatment so you can feel confident and comfortable in your decision to get it. With the problem-tooth out of your mouth, you'll be able to rest-assured that your smile will stay healthy and happy.
About the Author
Dr. Rafiq Hirji as over a decade of experience under his belt and is dedicated to keeping up with the latest techniques and technology in the dental world to be able to provide the highest quality of dental care. He makes sure that all of his emergency patients are comfortable by offering sedation dentistry and fast, pain-relieving treatments. For questions or to schedule an emergency appointment, visit Daily Smiles MacArthur's website or call 972-546-4114.