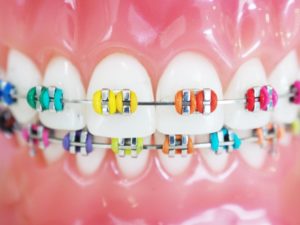 Are you about to get braces in Irving and feeling a bit nervous because you're not sure what to expect? The scariest part about receiving any kind of dental or orthodontic treatment is the unknown, which is why many professionals recommend that patients put their fears to rest by learning more about the process. Read on to learn what it's going to feel like to get braces and what you can expect to experience while you're adjusting to your new orthodontic appliance.
The First Day with Braces
When you visit your dentist to get braces, they'll glue brackets onto each of your teeth. These will be responsible for holding the archwire in place, which will apply a strategic amount of pressure to your teeth to gently shift them into their ideal positions. During this process, you won't feel any pain. But as you're getting used to the way they feel in your mouth and the new force being placed on your teeth, you'll likely experience some discomfort. Fortunately, this won't become as big of an issue as you get used to the way your appliance feels.
Surviving the First Week with Braces
As you're adjusting to the way your appliance feels, you may notice tenderness or discomfort due to the pressure being placed on your arch of teeth by your archwire. It can be annoying at first, but fortunately, it's only temporary and you'll have beautiful results to show for it. To help relieve your pain, you can:
Take an over-the-counter pain medication like ibuprofen.
Rinse your mouth with warm salt water regularly.
Eat softer foods like yogurt and applesauce.
Avoid acidic foods and beverages that could make your teeth sensitive.
During this first week, you'll also notice that oral sores or irritation occurs. This is only temporary, and in these cases, orthodontic wax will be your best friend. You can also spread an over-the-counter oral anesthetic to the inside of your mouth that's irritated to numb it and ease your pain.
What to Expect at Each of Your Checkup Appointments
With orthodontics in Irving, you'll need to regularly visit your dentist to make sure that you're on track with your treatment timeline and make sure that your archwire continues to be tight enough to shift your teeth. At these appointments, you may undergo some of these changes over the course of your treatment:
Bending your archwires differently.
Changing heavier archwires for lighter ones.
Attaching elastics of various lengths to help address bite misalignment issues.
While you may be a little sore a day or two following these visits, keep in mind that this will dissipate, and that you're one step closer to a straightened, beautiful smile. If you have any questions along the way, don't hesitate to reach out to your dentist. They're there to help make your treatment smooth, hassle-free, and effective.
About the Author
Dr. Rafiq Hirji has over a decade of experience in his field. He's passionate about helping teens and adults achieve straightened smiles that help them maintain excellent oral health throughout their lives. He has advanced specialty training in orthodontics and offers traditional braces and Invisalign clear aligner treatments. For questions or to schedule a consultation for an orthodontic treatment, visit Daily Smiles MacArthur's website or call 972-546-4114.