February 1, 2021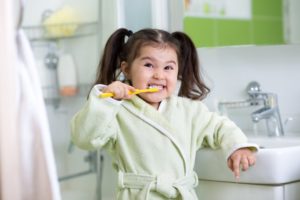 This month is Children's Dental Health Month in Irving, making it the best time to learn more about your little one's growing grin, teach them healthy oral habits, and maybe even get them some new oral hygiene products to celebrate! Growing smiles are delicate and vulnerable, which is why there's no better time to begin teaching them about their oral health and hygiene when they're young, so they can build healthy habits to preserve their smile for a lifetime. Read on to learn more about your child's growing smile and some oral health tips you can teach them in February!
What's the Most Common Oral Problem for Small Smiles?
It's likely no surprise that cavities are among the most common oral issues that children face. This is because they're still learning how to properly take care of their smile, which can lead to plaque and bacteria accumulation in the mouth. Children with asthma are also known to be more impacted by dental decay. According to the American Dental Association, an estimated 40 percent of children develop cavities by the time they reach kindergarten.
The best way to combat this issue and make sure that your child's mouth stays as healthy as possible is to take them in for routine checkups and cleanings with their dentist in Irving every six months. This way, if they do have a cavity, it can quickly be treated before it has a chance to get worse.
Why is Protecting Small Teeth So Important?
Baby teeth are destined to fall out, but that doesn't mean that they're not as important to take care of. These important teeth act as space savers for your child's permanent teeth that will grow in. If your little one loses their primary teeth too soon due to poor oral hygiene, it could result in their adult ones growing in crooked or crowded, ultimately causing orthodontic and bite problems that may need to be addressed down the road. This could also affect their oral health by putting them at a higher risk of issues like gum disease and dental decay.
Oral Health Tips to Build into Habits with Your Child
The key to good oral health is a great at-home oral hygiene routine. With regular maintenance of their teeth and gums, your child will be able to enjoy a beautiful, healthy smile all throughout adulthood. Here are some healthy tips to teach them in honor of Children's Dental Health Month:
Brush gently, using a circular motion instead of a back-and-forth motion that many people use.
Always use fluoride toothpaste and choose oral hygiene products with an ADA seal of approval on them.
Schedule routine checkups and cleanings every six months.
Floss every single day.
Snack healthy by substituting sugary drinks and foods with healthier options, like sparkling or flavored water, cheese cubes, and fresh fruits and vegetables.
Brush for two minutes twice every day.
By teaching your little one about their oral health at a young age, you'll be providing them with priceless information that will save them from experiencing oral discomfort, dental emergencies, and costly invasive treatments down the road!
About the Author
Dr. Rafiq Hirji has over a decade of experience providing excellent, educational dental healthcare to children in Irving. He has completed several continuing education courses, sharpening his expertise in specialty areas, including orthodontics and pediatric dentistry. He provides a variety of kid-friendly dental treatments that help combat and reverse the effects of common oral issues that plague small smiles. For questions or to schedule a checkup and cleaning this Children's Dental Health Month, visit Daily Smiles MacArthur's website or call 972-546-4114.
Comments Off

on Learn More About Your Kiddo's Smile During Children's Dental Health Month
No Comments
No comments yet.
RSS feed for comments on this post.
Sorry, the comment form is closed at this time.