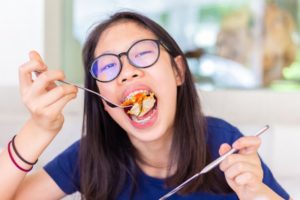 Did your child just get braces to help straighten their teeth and set their smile up for success as an adult? While their new oral appliance may cause them some discomfort and tenderness to begin with, there are some ways you can off-set this and help them effortlessly glide to the finish-line of their treatment, like packing braces-friendly foods in their lunchbox! Read on to learn what foods they should be avoiding and what ones are great choices.
Crunchy Foods Aren't Such a Good Choice
With braces on, it's especially important that your child avoid foods that are hard, chewy, and sticky, because they could cause a bracket to dislodge or an archwire to break. It may be fine for them to eat it one time, but the truth is, these foods are a gamble for you and your child, because they could land you an urgent visit with your dentist. Some of these crunchy, sticky, and chewy foods to avoid include:
Croutons
Raw vegetables (like celery and raw carrots)
Ice
Corn on the cob
Popcorn
Meat on a bone
Taffy
Licorice
Fudge
Chewing gum
And the list goes on! As long as you help your child avoid this notorious problem-causing snacks, they can have a stress-free treatment.
Foods with Small Seeds and Pieces Can Cause Problems
One type of snack that many parents and braces-wearers underestimate is foods that have small pieces attached to them or seeds. These can become lodged between the teeth, get stuck around the brackets or wires, and make it difficult to maintain a healthy smile while undergoing treatment. Some foods in this category to avoid include:
Chunky peanut butter
Popcorn
Nuts
Broccoli florets
Bread with seeds or grains
Strawberries
Make a Plan & Set Your Child Up for Success!
It's important to set your child up for a great orthodontic experience by helping them avoid foods, habits, and oral problems along their journey. It may seem like all that has been mentioned is what not to feed them, but the truth is, there are countless foods and snacks that are just fine for them to eat, too, including:
Cheese sticks
Steamed fresh vegetables
Peanut butter and jelly sandwiches
Bananas
Blueberries
Yogurt
Potato salad
Meat and cheese sandwiches
Pita bread and hummus
Sliced cucumbers or bell peppers
Soft cookies
It's also a good idea to send your child to school with a small container of orthodontic wax as well, in case they experience any discomfort in the middle of their class!
By being mindful of what you're encouraging your child to eat, you can minimize any unexpected visits to your dentist throughout your child's treatment, which will save you time and worry and save them discomfort. Before you know it, they'll have their braces off and be able to enjoy their beautifully straightened smile!
About the Author
Dr. Rafiq Hirji has been a dentist for over a decade, and he loves watching his patients improve their oral health and achieve a smile that they're proud of. He has completely advanced training and continuing education in a wide array of specialty services, including orthodontics and pediatric dentistry. For questions or to schedule an appointment for your child to learn more about braces, visit Daily Smiles MacArthur's website or call 972-546-4114.