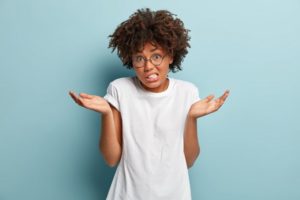 Whether you're missing one tooth or several teeth, having gaps in your smile can have a more drastic impact on your daily life than you would think. Fortunately, there are several different types of prosthetic replacement teeth that can restore the function and appearance of your grin, like customized dental bridges and natural-looking partial dentures. Read on to learn about the difference between these two options and how to know which one would be best for your unique situation.
What's the Difference Between a Partial Denture & a Bridge?
Both partial dentures and dental bridges are made to replace several teeth along an arch. The primary difference is how they do it. Bridges are comprised of two dental crowns that are fused to either side of free-standing replacement teeth, called pontics. This creates a "bridge" effect that allows them to restore consecutive missing teeth.
Partial dentures are different because they contain a metal base that's designed to fit like a missing puzzle piece between your existing teeth. This allows them to replace teeth that are located across the entire arch instead of ones that are consecutively missing. Unlike bridges, partial dentures are removable, making them easy to clean and care for.
Why Should You Replace Missing Teeth?
Replacing missing teeth, whether it's one tooth or an entire arch, is crucial to maintaining good oral health and an aligned bite. If you don't fill the gaps in your smile, you'll find that basic daily tasks like eating and speaking become more difficult. Over time, you may also notice that surrounding teeth begin to shift into the spaces in your smile to try to fill them in, causing unwanted gaps and orthodontic issues. Whether you get a partial denture or a dental bridge, both restorations can help keep this from happening and ensure that your smile's fully functional.
Both partial dentures and bridges are also custom-made for your unique smile, making them virtually indistinguishable from your surrounding natural teeth. This way, nobody will be able to tell that you once had spaces in your mouth.
Restore Your Smile & Boost Your Confidence
At the end of the day, restoring your smile will help you maintain good mental, physical, and oral health, which is absolutely priceless. If you're looking for a more permanent restorative treatment, you can also ask your dentist about securing either your partial or bridge to dental implants as well. No matter what tooth replacement issue you face, your dentist has the expertise and knowledge to help rejuvenate your smile—all you have to do is ask!
About the Author
Dr. Rafiq Hirji has been practicing dentistry for over 10 years. He regularly takes continuing education courses and sharpens his skills in specialized services, including cosmetic and restorative dentistry. He's passionate about helping boost his patient's confidence by providing high-quality and effective care. For questions or to schedule a consultation, visit Daily Smiles Macarthur's website or call 972-546-4114.