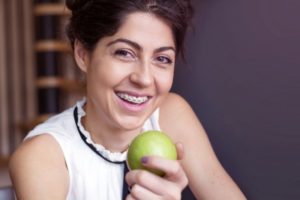 Braces can be fun to have for a little while, but it's also no surprise that nobody wants to have them forever. During your initial consultation with your dentist, they'll examine your mouth and draw up a treatment timeline that estimates when you'll finally be able to have your brackets and wires taken off. When they do this, they'll take a few different factors into consideration. Read on to learn what those factors are and how you can stay on-track with your timeline.
The Severity of Your Crooked Teeth
One of the biggest factors that can determine how long you undergo orthodontic treatment for is how severe your crooked, gapped, crowded, or jutting-out teeth are. Not only can these problems result in an increased risk of oral health issues down the road, but they can also have an impact on your self-confidence if they're very noticeable. As you could have guessed, the more severe the orthodontic problem, the longer you'll need to have braces for.
If Your Bite is Misaligned
Some people undergo braces treatment for a straighter smile, while others have bite misalignment that requires orthodontic intervention so other problems don't develop down the road. This issue can cause one or both of your jaw joints to sustain extra force and tension that results in them not functioning properly, also known as a condition known as temporomandibular joint disorder. As a result, you may also experience nightly grinding and clenching of your teeth. When your bite becomes aligned after braces, you won't have to worry about a list of oral issues unfolding as a result of misalignment.
The Type of Orthodontic Treatment You Want
Today, there are different types of orthodontic appliances you can choose from. Depending on the severity of your orthodontic problems and what your expectations are throughout the treatment, you may be a good candidate for one or both of them:
Traditional Metal Braces: This appliance includes metal brackets that are glued to the surface of each of your teeth that hold a metal archwire in place.
Invisalign Clear Aligners: This treatment utilizes custom-made clear trays that are removable to gently and strategically shift your teeth into their ideal positions.
A Few Tips to Keep Your Treatment On-Track
The three factors listed above can all impact how long you'll need to wear braces for, but with the right maintenance and remaining diligent about taking care of your appliance, you'll be able to keep your treatment from lasting longer than necessary. By making sure that you don't chew sticky or hard items that could break a bracket and thoroughly flossing between your appliance, you can prevent other barriers from popping up throughout the process, like surprising cavities and urgent visits with your dentist for braces repairs.
It's important to keep in mind that no two orthodontic treatments are exactly the same, so to find out how long your unique process will be, visit your dentist for a consultation!
About the Author
Dr. Rafiq Hirji has over a decade of experience in the dental field and has completed continuing education to be able to offer both traditional braces and Invisalign clear aligners to patients. He strives to help all of his patients who undergo treatment, whether they're teens or adults, feel confident and comfortable throughout the process. For questions or to schedule a consultation to learn how long you'll need braces for, visit Daily Smiles MacArthur's website or call 972-546-4114.