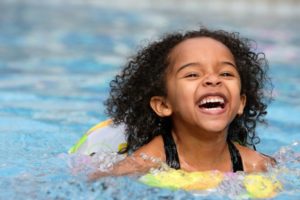 As a parent, you have a lot on your plate to worry about, between your little one getting back home before the streetlights turn on to making sure they have plenty of snacks and food to eat throughout the day as they're playing with friends and soaking up the summer sun. However, there are a few precautions that you'll want to take to ensure the health of your little one's smile this season. Read on to learn what they are and how you can keep your little one's pearly whites intact while they're having fun in the sun.
Cold Treats
Cold snacks like freeze pops and ice cream are delicious, quintessential summertime treats. However, if your little one experiences dental sensitivity, they could cause incredible discomfort. Sensitivity to hot and cold foods and beverages isn't an uncommon oral health problem; however, it can be caused by a variety of issues that could require treatment, such as a cavity or improperly developed enamel. Fortunately, their dentist can help with a quick and easy fluoride treatment or a tooth-colored filling.
Sugary Drinks
Staying hydrated is incredibly important, especially if it's a hot summer day and your little one is outside playing with their friends. While sports drinks and certain children's drinks are marketed to quench thirst, they also contain high amounts of sugar that could be bad news for their pearly whites. Instead, keep them hydrated with water. In between water, you can always give them watered-down sports drinks or lemonade.
Summer Sports
Neighborhood games of baseball, biking, skateboarding, flag football, and swimming are all iconic summer activities that children participate in to get the most out of the gorgeous weather. However, without the proper protection and mindfulness, your little one could sustain oral trauma that requires a visit to their emergency dentist. Before it's too late, protect their pearly whites with a customized mouthguard and other gear!
Protecting Your Child's Smile
Summertime should be all about having fun and enjoying their break from school, but that excitement can be ruined if an oral health problem appears. To keep the season light, memorable, and exciting, take your little one in for a checkup and cleaning so any lingering oral health problems can be treated before they have a chance to progress.
About the Author
Dr. Rafiq Hirji wants his patients to enjoy healthy smiles for a lifetime, which is why he places emphasis on preventive dental care, like bi-annual checkups and cleanings. He has over 10 years of experience treating patients of all ages, including little ones, and he's still passionate about educating each person he sees about their oral health. For questions or to schedule a checkup and cleaning for your child just in time for summer, visit Daily Smiles MacArthur's website or call 972-546-4114.