May 20, 2021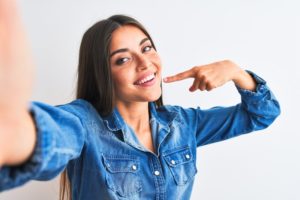 Your smile is the very first trait that people notice about you—it lets them know whether you seem approachable, happy, conversational, and the list goes on. Sometimes, if these first impressions don't go the way you hope because you're too embarrassed to smile due to misaligned teeth, you may not make the connection you're hoping for. It's no surprise that by receiving porcelain veneers or orthodontic treatment you'll be able to enjoy a wide array of cosmetic benefits, but did you know that you'll also experience advantages to your oral and overall health? Read on to learn about four health benefits from investing in a straighter smile.
Better Digestion
Whether you're born with an aligned smile or you utilize orthodontic treatment to earn a straighter smile, having straight teeth can make chewing foods easier, which is the first step your body takes towards digesting it. When you have a more even bite that makes chewing your food simpler, you'll be able to speed up your body's digestion process and avoid gastrointestinal issues that are a result of poorly chewed-up foods. You'll also be allowing your body to absorb more of the nutrients it needs to function.
Brush & Floss More Effectively
When teeth are crowded and crooked, you'll have more nooks and crannies for plaque and harmful oral bacteria to get trapped in, increasing your risk of developing common oral health problems like cavities. When your teeth are straightened, these hiding spaces will no longer exist, making brushing and flossing away harmful bacteria in your mouth easier.
Improved Speaking Abilities
If you have speech issues, like difficulty pronouncing certain sounds or a lisp, something as simple as undergoing orthodontic treatment could be the answer to solving them. Your teeth and tongue work together to create different sounds, and due to the position of certain teeth, you may not be able to make those sounds the way that other people do. By aligning your arch, you could address the root cause of this issue.
Less Wear & Tear on Jaw, Teeth, & Gums
Having a misaligned bite caused by crooked and crowded teeth can gradually create more problems for you down the road, like TMJ dysfunction caused by teeth grinding and head and neck pain. Not only could these issues leave you with a trip to your emergency dentist, but they can also create chronic discomfort that impacts your day-to-day life. By addressing them with orthodontic treatment, you could prevent additional tension and pain in your head, neck, and shoulders as well as several other oral and medical problems.
Some people put off getting orthodontic treatment because they feel it's only good for cosmetic purposes. However, as you now know, that's not actually the case! Once your braces come off, you'll be able to enjoy several health benefits that will improve the quality of your life permanently.
About the Author
Dr. Rafiq Hirji has over 10 years of experience in the dental field. He enjoys helping his patients straighten their smiles with traditional braces and Invisalign clear aligners to not only boost their confidence, but also help them enjoy a healthier lifestyle. He has completed additional training in several specialized courses, including pediatric dentistry and orthodontics, and he loves welcoming new patients to the practice. For questions or to schedule a consultation for orthodontic treatment, visit Daily Smiles MacArthur's website or call 972-546-4114.
Comments Off

on 4 Health Benefits You Can Enjoy When You Invest in a Straighter Smile
No Comments
No comments yet.
RSS feed for comments on this post.
Sorry, the comment form is closed at this time.