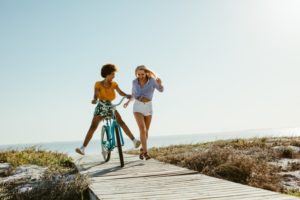 The summer sun is as bright as ever this season, and while it may be tempting to go to the beach, do yardwork all day, or go for long hikes, there are some rays that you should be cautious of. While you may be in the habit of putting sunblock on your body, many people forget to protect the frame of their smile– their lips. Read on to learn the answers to five important questions about lip protection against damaging UV rays in the coming summer months.
Can You Put Sunscreen on Your Lips?
Sunscreen is completely safe to use on your lips, or, for an easier application process, you could purchase a moisturizing SPF lip balm that you can use just like Chapstick. Typically, the balm should be applied every two hours or so, or you can just follow the instructions on the packaging. Staying hydrated while you're out in the sun is also a great way to protect your lips and body.
Why is it Important to Protect Lips from the Sun?
UV rays from the sun can be damaging to your skin, including your lips. Without proper protection, you could be putting yourself at risk for skin cancer. With the proper protection in the form of a balm that filters out harmful UV rays, you can rest assured that your lips won't get sunburned, and you'll be taking the necessary steps to reduce your risk for skin cancer.
How Much SPF Do My Lips Need?
A majority of sunscreen lip balms are SPF 15, but if you'd like to give your lips a little extra protection, especially if you're planning to spend an entire day outside, it's best to get SPF 30. SPF 30 filters out about 97% of harmful UV rays versus the 93% that SPF 15 does.
How Can I Heal Sunburned Lips?
If you forgot to put sunscreen on your lips and they got burned, you don't have to endure the discomfort without any hope for relief! If you notice that they're redder than normal, are tender or swollen, or you have blisters, you can try dipping a clean washcloth in ice water and resting it on them. You can also try applying a lip balm with aloe vera, being sure to avoid any product that contains Vaseline or petroleum. If the sunburn is severe, you can take an over-the-counter anti-inflammatory or pain medication as directed on the packaging.
Can Having Healthy Lips Improve My Oral Health?
When people consider their oral health, the last thing they think about is taking care of their lips. Oral cancer, or lip cancer, can have a severe impact on the rest of your smile, which is why your dentist conducts a routine screening at each of your bi-annual checkups. By taking care of your lips, you'll also be caring for your smile!
About the Author
Dr. Rafiq Hirji is passionate about treating patients of all ages and helping them tweak their at-home oral hygiene routine so they can maintain a healthy and complete smile for a lifetime. He has over 10 years of experience, and he hasn't lost an ounce of his dedication to providing attentive and individualized care to his patients. For questions or to schedule a routine checkup and oral cancer screening, visit Daily Smiles MacArthur's website or call 972-546-4114.