June 26, 2021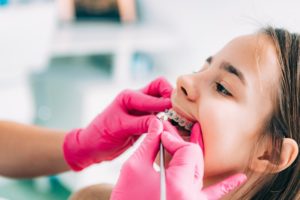 Getting braces can be a big change to your daily life, especially if you've never had to undergo orthodontic treatment before. After getting your brackets and wires on, you'll undergo an adjustment period and may experience a wide array of discomforts. If you notice that your gums are beginning to swell, this side-effect may not necessarily be due to your braces, but a dental condition. Read on to learn more about this problem and how you can remedy it.
What Causes Swollen Gums?
When you have braces, there are several different reasons why your gums may become swollen. Some of the issues that can cause this include:
Poor oral hygiene or food particles getting trapped between your brackets and wires that result in the early signs of gum disease, also known as gingivitis.
Inflammation as a result of your teeth gradually moving.
If you have underlying conditions that could make you more prone to swollen gums, like diabetes.
If you're concerned and believe that your swollen gums could be a result of developing oral health problems throughout your treatment, don't hesitate to contact your dentist. The sooner you take care of the issue the better, because developing oral health issues with braces on could set back your original treatment timeline.
Home Remedies for Swollen Gums with Braces
If your swollen gums are causing tenderness, there are a few ways you can ease your discomfort without leaving your home:
Rinse with lukewarm salt water several times each day.
Take an over-the-counter anti-inflammatory medication as directed on the packaging.
Floss between your teeth, thoroughly removing any food debris or plaque buildup. If you have difficulty using regular floss with braces, try investing in a Waterpik.
Avoid eating foods that are hard to chew, like crunchy vegetables or fruits or hard candies.
Preventing Swollen Gums During Orthodontic Treatment
The best way to ensure that your orthodontic treatment is hassle-free is to be mindful of the problems that can arise throughout the process and take preventive measures to stop them from doing so. Here are a few oral hygiene and general braces maintenance tips to prevent problems like gingivitis and gum tenderness from developing:
Brush your teeth with a soft-bristled electric toothbrush after each meal.
Use special orthodontic flossers or a Waterpik to remove all food debris and plaque that could increase the number of harmful oral bacteria in your mouth and cause gum disease.
Rinse at least once every day with an antibacterial mouthwash after brushing.
Steer clear of foods like chewy steak, corn on the cob, hard candies, popcorn, and chewy candies.
If you're ever in doubt, never hesitate to call your dentist to have them take a look at your gums and braces to make sure that there isn't a lingering oral health problem. If you wait too long, it could result in a stressful trip to the emergency dentist, and who would want that? With the right maintenance and diligent care throughout your treatment, it'll be more comfortable and hopefully fly by!
About the Author Dr. Rafiq Hirji has been helping patients of all ages straighten their smiles with ease over the last 10 years. His favorite part of the entire orthodontic treatment process is being able to take off the metal braces and see his patient's face light up when they catch a glimpse of their new smile. Even though it's hard work, he always lets his patients know that it's going to pay off! For questions or to schedule a consultation or emergency appointment, visit Daily Smiles MacArthur's website or call 972-546-
Comments Off

on What Causes Swollen Gums with Braces & How Can You Treat It?
No Comments
No comments yet.
RSS feed for comments on this post.
Sorry, the comment form is closed at this time.