June 28, 2021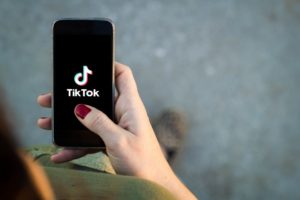 Dentures exist as a treatment for a couple of reasons: 1. Because doing basic daily tasks like eating and speaking can be hard to do without teeth. 2. Living with gaps in your smile can have a heavy impact on your confidence. While it's true that dentures can change lives, one viral TikToker who goes by Princess Glitterhead on social media is sharing her vulnerable and important story that's breaking down social stigmas around this common oral issue for younger folks with medical conditions that affect their immune system.
The Viral Sensation of Princess Glitterhead
Alicia, aka princxssglitterhead on TikTok, has been leading a movement of destigmatizing tooth loss by sharing her moving experience that led her to getting mini dental implant-retained dentures. She told her story in an interview with Buzzfeed, stating that her teeth began to quickly decay from the inside outward after her pregnancy. She was scared of losing her husband and having tooth loss impact her personal life, all because her smile wasn't what it once was. Plus, because she's younger, tooth loss wasn't a traditional problem that any person would expect her to face.
Breaking Barriers & Tearing Down Stigmas
Throughout the viral movement that Princess Glitterhead has birthed, countless young adults are sharing their stories surrounding tooth loss. While this oral issue is typically painted as something that only older adults face, there's tons of stigma surrounding it when it comes to being an issue faced by younger adults. However, changing hormones, the development of immunocompromising medical conditions, and other issues that people can experience at any point in their life can lead to tooth loss.
By sharing her story, Alicia empowered countless others to come forward and stitch her Tiktok to show their smile both with and without their dentures and prosthetics, slowly but surely breaking down the shame and decreased self-esteem that many feel for having lost their teeth at a young age.
Battling Tooth Loss at Every Age & the Importance of Sharing Experiences
Whether you're 18, 35, or 70 years old, there are countless reasons why you might face tooth loss. The most important thing is to remember that you're not alone. An estimated 178 million people in the country are missing at least one tooth, and over 40 million are missing all of their teeth. No matter your age, this issue can affect your life, and your story and health and wellness are important things to focus on.
With dentures or without dentures, you're still the phenomenal person that your friends, family, and loved ones appreciate, and Princess Glitterhead and countless other folks who are battling with tooth loss are unabashedly putting that message out there for all to hear.
About the Author
Dr. Rafiq Hirji has over a decade of experience as a dentist. He chose dentistry as his career because there's nothing more satisfying than being able to find the ideal treatment to help fix a patient's problem, whether it's cosmetic or functional. He always takes the time to listen to what his patients have to say and truly understand where they're coming from. That way, he can provide them with the exceptional, top-tier treatment they deserve. For questions or to schedule a consultation to learn more about how you can replace missing teeth, visit Daily Smiles MacArthur's website or call 972-546-4114.
Comments Off

on Trending on TikTok: Living With Dentures At a Young Age
No Comments
No comments yet.
RSS feed for comments on this post.
Sorry, the comment form is closed at this time.