August 5, 2021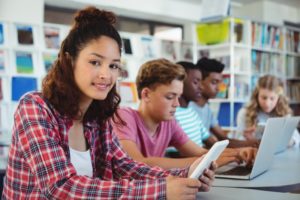 High school's about to start back up, and this year, many students will have in-person classes. If you've already started your Invisalign treatment, you'll need to change up your routine a little bit since you'll no longer have easy access to certain items at home throughout the day, like your toothbrush and dental floss. Read on to learn some important tips about going back to school with your Invisalign aligners and some important changes that you'll need to make to your routine.
Eating at School with Your Aligners
Lunchtime will be a little different now that you'll be at school. To store your aligners while you eat, you'll need to bring your hard, protective case with you each day. This will keep you from having to set them on the table, possibly exposing them to germs and other bacteria, or getting your saliva on the table. Remember to never eat with your trays in your mouth, too, because this can damage them, possibly setting back your treatment timeline. The good news is that because you don't have metal braces, you won't have to limit the foods that you pack!
Maintaining Good Oral Hygiene
Frequently brushing, flossing, and rinsing your mouth while you undergo Invisalign treatment is an important part of the process. Before your classes start, make an at-school Invisalign kit with travel-sized, important oral hygiene products in it that you may need throughout the day. Here are a few items to include:
A travel-sized toothbrush
Flossing picks (or regular dental floss if you'd prefer)
Antimicrobial mouthwash
Ibuprofen (in case you're experiencing any discomfort)
Invisalign cleaning crystals
Your hard, protective aligner case
Tackling Self-Consciousness While Around Peers
After not being around your friends and peers for a whole year at school, you may feel self-conscious about returning back to campus, especially if you're undergoing orthodontic treatment to address dental misalignment. It's important to keep in mind that they're highly discreet, so few onlookers will be able to tell you have them in your mouth. If you notice that you have a lisp at the beginning of your treatment, know that this will also go away with time—simply practice speaking at home or in the shower with your trays in and make sure to carefully enunciate your words to avoid having a lisp in the meantime.
Avoiding Bad Breath & Dry Mouth
A common problem that teens experience whenever they start their Invisalign treatment is bad breath and dry mouth. You can combat these issues by bringing a water bottle with you to school to help you stay hydrated, brushing and flossing after every meal (don't forget to brush your tongue!), and stock up on sugar-free breath mints to suck on throughout the day.
Even though going back to high school while undergoing orthodontic treatment may seem daunting, as long as you take the proper measures to protect and take care of your smile and aligners, everything will work out just fine!
About the Author
Dr. Rafiq Hirji has over 10 years of experience in the dental field and has completed advanced education courses to be able to offer orthodontic treatments in his office, including traditional braces and Invisalign. He's incredibly knowledgeable and enjoys being able to help teens achieve their best smiles without affecting their confidence. For questions or to schedule an Invisalign consultation, visit Daily Smiles MacArthur's website or call 972-546-4114.
Comments Off

on Going Back to School with Invisalign Aligners
No Comments
No comments yet.
RSS feed for comments on this post.
Sorry, the comment form is closed at this time.