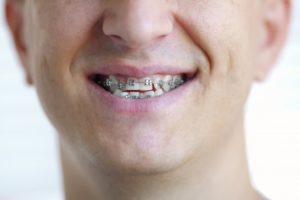 Metal braces aren't indestructible. In fact, a fairly common occurrence for many patients undergoing this orthodontic treatment is that they break or damage one of their brackets or the archwire. To keep this inconvenience from affecting your treatment timeline, it's a good idea to know how to address the problem before it happens. Read on to learn the three steps you should take whenever you break a bracket on your metal braces.
Examine the Damage
Before you panic, take a moment to collect yourself, calm down, and examine what happened. Assess what part of your orthodontic appliance has broken and avoid putting your hands in your mouth or touching your tooth. This will prevent bacteria from transferring to the area.
Prevent Additional Damage & Relieve Discomfort
Although it may be tempting to finagle a solution to fix your broken braces, that's rarely a good idea. However, there are a few ways you can minimize your discomfort until you reach your dentist's office:
If your bracket is loose, you can remove the bracket glue on your tooth to keep it from irritating the inside of your lip and place a piece of orthodontic wax to hold the bracket in place instead.
For a protruding or broken archwire, you can place a piece of orthodontic wax over the area or gently try to move it back into position using a cotton round.
If one of your spacers is loose (the small pieces of rubber placed between your molars), this is a sign that it's time to put new bands on your braces, so the only fix for this is to visit your dentist.
For broken elastics, it's important to not try to replace it yourself and immediately call your dentist.
Book an Appointment with Your Dentist
If anything strange happens while you're undergoing braces treatment, you should always contact your dentist. They'll help you navigate the situation and try to see you soon if the damage needs to be addressed right then and there. They can also provide you with first-aid guidance and answer any questions or concerns you have to put your mind at rest and help you make the best decisions for your smile in that moment.
Tips to Avoid Orthodontic Emergencies in the Future
Although this may seem easier said than done, there are several precautionary steps you can add to your daily routine as you're going through your treatment to minimize your risk of experiencing an orthodontic emergency. Some of these include:
Sticking to a softer diet
Never chew gum or anything that's sticky
Maintain a thorough oral hygiene routine
Rinse your mouth regularly with warm salt water or antiseptic rinse if your appliance has caused irritation
Wear a protective mouthguard if you play sports
If you have any questions or concerns on how to address these unexpected situations, know that the best people to contact is your dental team. They'll help walk you through the process so you can quickly get back on-track with your treatment.
About the Author
Dr. Rafiq Hirji has over a decade of experience in the dental field. He has completed advanced education courses in a variety of specialty dental services, including orthodontics and children's dentistry. This allows him to offer a wide array of orthodontic treatments, including Invisalign and traditional braces. He also offers emergency orthodontic appointments six days a week. For questions or to schedule an emergency visit, visit Daily Smiles MacArthur's website or call 972-546-4114.