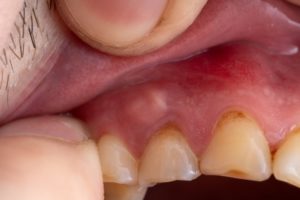 Oral health problems can manifest in countless different ways, one of which is a mysterious bump appearing on the gums. While some of the issues that could cause this may not require immediate attention from a physician or a dentist, others do, so it's important to know what you could be battling against. Read on to learn about a few different problems that could cause a bump to appear on the gums and what you'll need to do for treatment.
An Oral Cyst
When you think of a cyst, you probably think of ones that form on your face or back. The last place anybody would think a cyst would pop up is in their mouth. However, that's possible! Dental cysts can form on the gums around the teeth, and they're typically a result of teeth that are dead or impacted. They can get larger over time, and in many cases, they don't result in any discomfort unless they're infected. It's a good idea to visit a dentist if you have a cyst, because if it's big enough and putting enough pressure on the roots of your teeth, it could result in additional oral problems over time.
A Progressed Tooth Infection
Tooth infections are serious oral health issues that could result in tooth loss if you're not careful. A soft, warm-feeling bump on the gums paired with oral pain, redness and swelling in the gums and face, or pain that gets worse when you lie down are all common problems that you may experience in the face of an infection. The key to successful treatment and to preserve your smile is to seek help from a professional quickly.
An Oral Pyogenic Granuloma
A more mysterious issue that could cause a lump to form on your gum is a pyogenic granuloma. It's a blood-filled bump that easily bleeds, and although doctors aren't entirely sure what causes them to develop, many professionals believe hormonal changes could play a role. You can spot a pyogenic granuloma because it will be soft, painless, and a deep red or purple color.
An Oral Abnormality Due to Cancer
Oral abnormalities, like lumps on the gums or inside of the mouth, red and white rough patches within the mouth, or sores that don't heal within about two weeks can all be signs of oral cancer. At each of your bi-annual checkups and cleanings with your dentist, you'll receive a screening for this disease, so if you're concerned about any signs that could potentially be cancerous, don't hesitate to let your dentist know.
It's important to seek help if you notice a bump on your gums that's concerning or unusual to you, because you never know what might be causing it. If it's something serious, like oral cancer, the earlier you receive a diagnosis and start treatment, the higher your chances will be of successfully addressing the issue and maintaining good health.
About the Author
Dr. Rafiq Hirji has over a decade of experience in the dental field, and he treats patients of all ages. He realizes that dental emergencies are an unpredictable reality for many of his patients, which is why his office remains open on Saturdays and offers fast, pain-free treatments. He also provides emergency exams special offers to help patients save if they don't have dental insurance. For questions or to schedule an emergency appointment, visit Daily Smiles MacArthur's website or call 972-546-4114.