September 17, 2021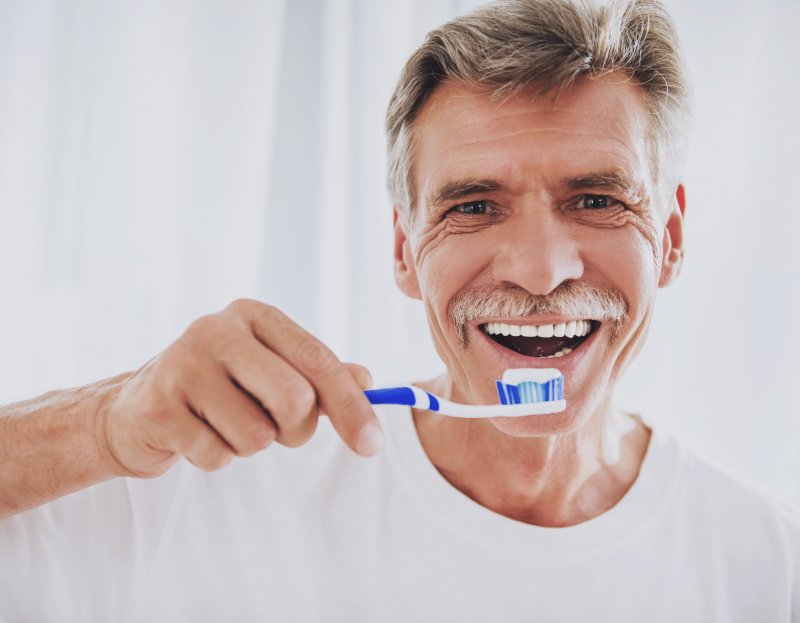 Keeping your dentures clean is very important when it comes to maintaining your oral health and keeping your mouth fresh. Your dentist gave you instructions for cleaning dentures in Irving, but you may be wondering if there is a quicker, more efficient way. Continue reading to learn whether or not you can brush your dentures while you're still wearing them and some tips for keeping your restoration is the best possible shape.
Can You Brush Your Dentures While They're in Your Mouth?
While you can brush your dentures while you are wearing them, this isn't a great way to thoroughly clean them. It certainly isn't harmful to give them a quick brush while they're in your mouth, but you won't be able to clean all of the surfaces very well. You will still need to remove them in order to brush key areas. Ultimately, the whole process would take longer. It is best if you remove your dentures completely before you clean them.
How to Keep Your Dentures Clean?
Your dentures require daily care to keep them in the best possible shape. Here are a few steps that you should be taking.
Rinse After Meals: To clear away food particles, you should remove your dentures and give them a rinse after you eat.
Clean Your Mouth: When you remove your dentures, carefully give your mouth a brush with a soft-bristled toothbrush. This includes any remaining natural teeth, the tongue, cheeks, and roof of your mouth.
Brush Each Day: Every single day, you should soak your dentures and brush them with a nonabrasive denture cleanser and soft-bristled toothbrush. Never use denture cleaners in your mouth.
Soak Nightly: Dentures should remain moist to keep their proper shape. Follow your dentist's instruction about the type of solution you should be using and where to keep your dentures when you catch some Z's.
Attend Checkups: Even if you don't have any natural teeth remaining, you should still see your dentist for regular checkups. You should also head in if your dentures don't feel like they're fitting as they should. You don't want to end up with soreness, irritation, infections, and other issues.
Brushing with your dentures in your mouth isn't the most efficient way to keep your smile fresh. By using the tips listed above and closely following the instructions of your dentist, you can keep your restoration in optimal condition and show off your pearly whites for many years to come!
About the Author
Dr. Rafiq Hirji is an experienced dentist who has been working in the field for over a decade. He earned his Doctor of Dental Surgery degree from the University of Southern California School of Dentistry and is committed to continuing education to expand his clinical knowledge and skills. To learn more about dentures or to schedule an appointment at his office in Irving, visit his website or call (972) 546-4114.
Comments Off

on Can You Brush Your Dentures While You're Wearing Them?
No Comments
No comments yet.
RSS feed for comments on this post.
Sorry, the comment form is closed at this time.