September 30, 2021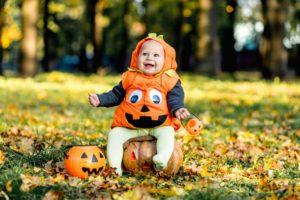 This will be the first all-out Halloween since the pandemic started, so it's time to go big or go home when it comes to the treats you'll be handing out. It's nearly guaranteed that all of your neighbors will default to handing out candy, but there are more fun oral health-conscious alternatives that will help add some variety to each little one's Halloween bucket who visits your home. Read on to learn about why it's good to hand out non-candy treats and some ideas as to what you could give away!
How Does Candy Impact Children's Oral Health?
Each year, Americans spend billions (yes billions) of dollars on Halloween candy, but for many parents, those treats turn into costly dental bills a month down the road due to cavities. Sugary treats are known to cause cavities because harmful oral bacteria love to feed off of the sugars and carbohydrates found in them. In turn, they produce waste in the form of acids and toxins that can cause bad breath and enamel erosion (which leads to cavities).
The reason children are so susceptible to cavities around Halloween is because they have a bottomless supply of candy that they can snack on throughout the day, constantly exposing the bacteria in their mouth to a buffet of sugar. Plus, they're still learning how to properly take care of their teeth and gums, which could result in leftover plaque and sugars in the mouth that increase the risk of dental decay even more.
Fun Treats to Give Away on Halloween That Aren't Candy
It's guaranteed that each precious Trick-or-Treater that comes to your house will already have mountains of candy, so to help curb the threat of cavity-formation and provide them an exciting new treat, try giving out non-candy! Here are a few ideas to get your wheels turning:
Today, kids are slime-obsessed, and countless stores have dozens of fun slime options to choose from.
Glow-in-the-dark vampire teeth are a fun, Halloween classic.
Spread the joy of reading with fun Halloween-themed bookmarks!
Remember the good ol' days when slinkies and Tech Decks (mini skateboards) were in everyone's pocket? Bring them back!
Holiday-themed stickers would be a great addition to their binders and school supplies.
The all-time classic non-candy treat that every child loves to get is Play-Doh!
With so many other options besides candy, finding an alternative to keep your community cavity-free is much easier than you may have thought! Plus, you're guaranteed to be the house on the block that every kid will be talking about.
About the Author
Dr. Rafiq Hirji is a passionate family dentist who loves treating patients of all ages. His main goal is to help keep small, growing smiles thriving by providing thorough and attentive preventive care like routine children's checkups and cleanings. To schedule a visit for your little one and learn more about cavity prevention for children, contact Daily Smiles MacArthur today at 972-546-4114 or visit our website.
Comments Off

on 6 Non-Candy Halloween Treat Alternatives
No Comments
No comments yet.
RSS feed for comments on this post.
Sorry, the comment form is closed at this time.