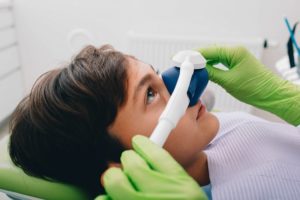 An estimated 75% of adults in the United States have some fear or anxiety associated with the dentist, while between five and 10% of those people have a severe dental phobia. One of the ways that dentists are able to encourage and help patients to keep up with their oral health is to administer nitrous oxide during their appointment, which is a method of sedation. Many people wonder how this makes you feel, and question whether it actually helps calm your nerves or not. Read on to learn more about nitrous oxide and the effects that it will have on you during your appointment.
What is Nitrous Oxide?
Nitrous oxide is a safe and highly effective method of sedation that involves breathing in a mixture of oxygen and nitrous, which is a colorless, odorless gas, through a small mask that's placed over your nose. It's more commonly referred to as "laughing gas," and the effects of it take place within 30 seconds and four minutes of it being administered. It's stored at room temperature within the dental office and has a slight metallic scent and taste.
How Does Nitrous Oxide Make You Feel?
The effects of nitrous oxide take place nearly immediately after they're breathed in. It slows down the body's reaction time and results in a feeling of euphoria and calmness, although it doesn't numb the body or keep you from feeling pain during a treatment. That's why patients who are having more invasive treatments may receive nitrous oxide as well as local anesthesia. It's also able to suppress the gag reflex and reduce anxiety levels.
Will Nitrous Oxide Put You to Sleep?
Nitrous oxide is considered conscious sedation, unlike general anesthesia, so it won't put you to sleep. You'll still be able to respond to the dentist's and dental team's requests during your procedure, and you'll remain aware of your surroundings during your visit. However, many patients don't remember much by the time the effects wear off.
The After-Effects of Nitrous Oxide
After your treatment, the mask will be removed, and the effects will melt away within minutes. As soon as your dentist clears you to leave, you'll be able to drive yourself to the next place you need to go and carry on with your day as you normally would.
Nitrous oxide is a completely safe, fast-acting, and highly effective form of dental sedation, allowing patients with mild to moderate dental fear and anxiety visit the dentist without putting their comfort and mental health at stake.
About the Author
Dr. Rafiq Hirji has over a decade of experience helping patients of all ages have an enjoyable, educational, and comfortable time visiting the dentist. He has special advanced training in sedation dentistry and has achieved is Level 2 Certification. His knowledge and expertise helps put his patients' minds at-ease because they can trust that he'll always provide them with attentive, relaxing care. For questions or to learn more about nitrous oxide sedation, visit Daily Smiles MacArthur's website or call 972-546-4114.