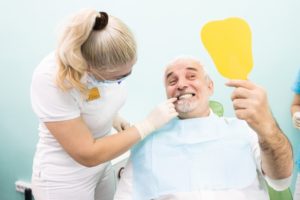 Maybe dentures have served you well for years, but you still wonder if a move to dental implants could change your life for the better. After all, they are the most permanent method of tooth replacement and allow patients to speak, eat, and smile with more confidence. Before you move forward, however, you must be wondering how they are going to feel. Fortunately, your dentist is here to share what you can expect with dental implants in Irving.
What Exactly Is a Dental Implant?
A dental implant is a screwlike post that's inserted into the jawbone during surgery. Normally made of titanium, it will be hidden under the gums and the dental restoration that it will eventually support. Over several weeks or months, a dental implant fuses with your jawbone, which allows it to hold your new teeth firmly in place while also stimulating your jaw.
Do Dental Implants Feel Similar to My Natural Teeth?
Some patients report feeling a strange sensation while attempting to eat after having dental implants placed. This is not uncommon while your mouth is healing. Over time, you'll adjust to your new smile and become more comfortable while eating. Eventually, your dental implants will feel like having your natural teeth again! You'll be able to enjoy foods you once thought you might have to give up.
What Are Some Benefits of Getting Dental Implants in Irving?
There are several reasons you'll be happy with your decision to get implants, such as:
Easy To Care For: Dental implants don't require you to buy any special products to clean them. You just brush and floss as you would with your natural teeth.
Match Your Natural Teeth: Dental Implants are custom-made for each patient's unique smile to ensure they feel just like natural teeth. Your dentist works to design implants that match the color of your surrounding teeth and fit perfectly in the gap so that only the two of you know which teeth are implants.
Fully Restored Tooth: Dental implants fuse to your jawbone via a natural process called osseointegration and serve as a replacement for your tooth roots. In some cases, you may need to wait for the fusing process to finish before you receive a crown, but it's a small price to pay for a permanent solution.
Feel More Comfortable: Because implants fuse with surrounding bone tissue, they offer a long-lasting, stable foundation for dental restorations that replace your teeth. While other tooth-replacement methods rest upon the top of your gums, your restorations are permanently attached to your implants. No more worrying about dentures slipping and sliding in your mouth.
Unaffected Biting Power: It can be difficult to bite into hard foods when you have dentures, so you must modify how you eat. That's not a problem with dental implants since your biting power will not be affected at all! You'll be able to enjoy all the same foods you did before you had missing teeth.
If you're ready to take your smile to the next level, it's time to trade in your dentures for dental implants. All you have to do is contact your implant dentist in Irving and schedule a consultation to return to a natural-looking smile!
About the Author
Dr. Rafiq Hirji earned his dental doctorate at the University of Southern California. He is diligent about taking continuing education courses on a wide range of specialties like cosmetic dentistry, orthodontics, pediatric dentistry, and Level 2 certification in sedation dentistry to stay current in an ever-evolving field. If you are interested in dental implants, once the new "roots" are in place, Dr. Hirji can create attractive restorations that are perfectly suited for your unique smile. You can schedule a consultation on his website or by calling (972) 546-4114.