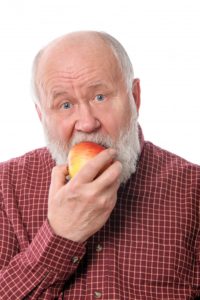 You're feeling good about the look of your new dentures, and it's boosted your confidence in the process. Your dentist promised it would be a big step up from when you were missing teeth. But you are feeling a bit hesitant about that fancy restaurant your brother invited you to. You aren't quite sure about what you should be ordering or avoiding. Keep reading to get advice from your dentist on eating with dentures in Irving.
Start with Easy-to-Eat Items
Start with soft foods and cut them into small pieces or thin strips. It's necessary to use both sides of your mouth to chew and try to go slower. If you eventually progress to foods like steak, pizza, and bagels, expect to chew each bite much longer so you can fully break it down. It will be a lot easier if you replace tough red meats with poultry, fish, and eggs – or at least turn to stewed or slow-cooked meats.
Be Careful When You Bite
If you need to bite down on food such as an apple, use your canine teeth instead of your front ones. Avoid biting down with your front teeth, because it will cause your dentures to move around and make your gums sore.
Be Patient as You Adjust
It may take weeks to get comfortable eating with your dentures, but you'll get there. As you make progress, you'll be able to eat firmer foods. Always make the effort to chew on both sides of your mouth simultaneously. While still in the adjustment period, don't chew gum and try to avoid hot foods or meals with sharp bones.
Steer Clear of Sticky Foods
Items that are sticky (caramel, taffy, peanut butter, raisins) or hard can damage your dentures. Also try to stay away from nuts or seeds, since they can get under your dentures and cause irritation.
Choose the Denture Adhesive That Suits You Best
Denture adhesives in glue form tend to provide the greatest stability but can make cleaning difficult. Adhesive seals and powders are easier to clean up and reduce the chances of gum irritation yet offer less stability.
It's important to keep these suggestions about eating with dentures in Irving in mind after you get a pair, but once you've been following them for a few weeks you'll be making wise decisions without even thinking about it. Any time you are uncertain about what to do, you can always ask your dentist in Irving about items to consider or avoid!
About the Author
Dr. Rafiq Hirji is driven to help each one of his patients find their ideal solution and change the minds of those who have a negative perception of dentistry. As a boy, his uncle was the family dentist and the learning opportunities that ensued led him down this professional path. A couple of Dr. Hirji's favorite hobbies are cooking and trying out new restaurants, so he understands the importance of you being able to eat the foods you are interested in. Speaking of interest, if you are seeking dentures, he offers partials and full dentures. The first step is to schedule a consultation, which you can do by visiting his website or calling (972) 546-4114.