April 7, 2022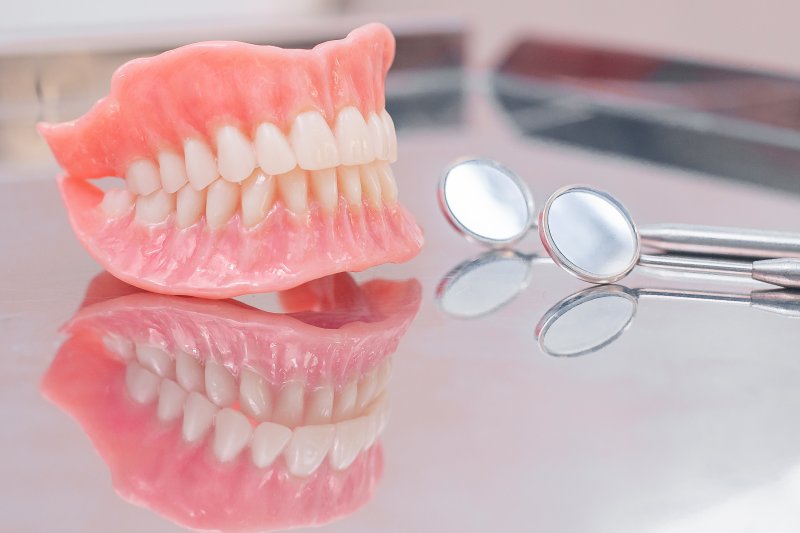 You may find that people's assumptions about dentures vary widely. A few consider this treatment only suitable for seniors. Others believe it can essentially guarantee oral health for the rest of your life. Given this range of views, it's understandable if you aren't sure what's true and false on the matter.
Fortunately, it's possible to set the record straight. Here are four common myths about dentures debunked by your Irving dentist.
Myth #1: Dentures Just Don't Work
When some people think of dentures, they think of the obtrusive, awkward, and bulky ones used decades prior. Fortunately, both technology and the field of dentistry have advanced exponentially since then. Today, they're crafted from high-quality materials and custom-made for each patient. As a result, they look lifelike and are easy to maneuver.
Myth #2: Dentures Make You Look Old
Since people over the age of 65 are the largest age group struggling with tooth loss, you may believe that dentures are only for seniors. If so, you may think that wearing them will make you look older than you are! Rather than a vibrant human being, you'll seem feeble and exhausted.
In fact, today's dentures make their wearers look younger and more energized. Even better, implant dentures are designed to preserve jawbone tissue, resulting in a more youthful and fuller-looking face.
Myth #3: Dentures Are Effortless
Because they're made of artificial materials, rumors suggest that dentures don't need daily care. False teeth won't suffer from enamel loss or tooth decay, so patients should feel free to ignore them.
On the contrary, they actually need a bit more care than natural teeth. They still sit in your mouth, so they make regular contact with the bacteria near your gums and tongue. Unless you want to experience gum disease and bad breath, you'll want to keep cleaning the major areas of your mouth, dentures included.
Myth #4: Dentures = No More Dentist Appointments
Yet more gossip suggests that denture wearers can forego dentist appointments. Yes, you may still need to clean them occasionally. Still, you won't need professional dental treatments for fake teeth that can't get infected.
In reality, you should still see your dentist to ensure the prosthetic fits correctly and that your gums are healthy. It's vital if you also have dental implants, as a lack of professional care can result in implant failure.
Dentures have been around for decades, so it's not surprising that some myths have surfaced about them over time. If you want to double-check if the information you've heard about this tried-and-true tooth-replacement solution is correct, get in touch with your dentist!
About the Practice
Daily Smiles MacArthur is a dental practice based in Irving, TX. Headed by Dr. Rafiq Hirji, who earned his DDS from the University of Southern California's School of Dentistry, their team believes in quality dental care at affordable costs. They also pursue continuing education to meet each patient's unique needs, providing services for people of all ages and backgrounds. Said services include restorative dental treatments like dental crowns, dental bridges, and dentures. To learn more or schedule an appointment, the team can be reached at their website or by phone at (972)-546-4114.
Comments Off

on 4 Denture Myths & Why They Aren't True
No Comments
No comments yet.
RSS feed for comments on this post.
Sorry, the comment form is closed at this time.