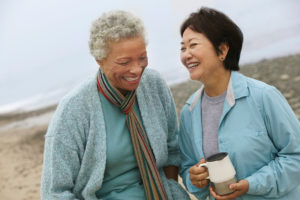 Dentures in Irving are a tried-and-true method of tooth replacement that have been around since 2500 BC. Thanks to advancements in dental technology, they're as affordable and lifelike as ever, and a great option for people missing several or all of their teeth along an arch. When investing in new replacement teeth, it's important to have realistic expectations of the process, including understanding that there will be an adjustment period that could make it difficult to talk. Learn about what hurdles you could encounter while getting used to your new dentures and 3 tips on how to ace talking with them.
Problems While Talking with Dentures
You've just picked up your dentures from your dentist in Irving, now what? Every set of replacement teeth comes with an adjustment period. During this time, you may encounter some common issues as your mouth adapts to your new restorations, including:
Clicking when you talk. Clicking can be a result of the muscles in your cheeks, lips, and tongue trying to naturally dispel your dentures from your mouth.
Difficulty pronouncing S's and F's. Slurring or having trouble pronouncing certain letters and sounds is typically a result of your tongue and muscles adjusting to what your mouth feels like now that you have replacement teeth.
Sounding different when you talk. Talking with dentures requires practice, so you may sound different when you talk with your friends and family than before. Be patient with yourself!
3 Tips for Speaking with New Dentures
While change can be hard to adjust to, it's often good—especially in the case of receiving a brand-new dental restoration! Here are 3 tips to help you speak clearly with dentures:
Read Out Loud or Sing in the Shower. As goofy as it may sound, reading out loud to yourself and singing in the shower with your dentures in can help you get used to the way they feel without having to be embarrassed if you slur a word or your dentures click.
Practice Pronunciation. It's true that practice makes perfect, so repeatedly pronounce words that you find difficult to say with your dentures in.
Keep Talking with Friends and Family. Even though it may be tempting to keep quiet because your new denture struggles may be embarrassing, the best way to get used to speaking with your new teeth is by holding conversations with your loved ones!
While the adjustment period of having new dentures may be frustrating, it's well worth all of the benefits of living with a complete smile again! With time and practice, you'll be able to eat, speak, and smile with confidence. If you're still having difficulty adjusting to your new restorations after trying these tips and giving your mouth a little time to get used to the dentures, speaking with your dentist is a great next step.
About the Author
Dr. Rafiq Hirji has over a decade of experience in the dental field. By using the latest, cutting-edge technology in his field, he's able to provide his patients with modern, long-lasting replacement teeth like dental implants, dentures, and other restorations. He's also dedicated to taking advanced education in specialty arenas, like sedation and cosmetic dentistry. To learn more about how to care for dentures, visit our website or call 972-546-4114.