August 19, 2022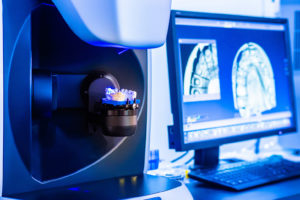 People are often surprised to learn that dental implants in Irving aren't exactly a new invention, and that this –now regarded as– modern treatment has roots as far back as 600 AD. Due to the advancements in technology in the dental field, the idea of replacing entire missing teeth from the roots upward has taken on a whole new meaning. Take a journey through time and continents and learn just how far this modern treatment has come from its conception to where it is now, and what it could look like in the future.
The Conception of Dental Implants
Some of the earliest accounts of the dental implant procedure go back to 600 AD, where archaeologists discovered that ancient Mayans had fused foreign materials with bone to hold tooth-shaped shells in place within the mouth. Across continents around the same time period, ancient Chinese had carved bamboo root structures and fixed them to the jaw to replace missing teeth. Although the terminology "dental implants" hadn't been coined, these moments in history established the foundation of a modern procedure that would only become more advanced as technology caught up to these communities' genius.
The Introduction of Metal in 1000 BC
Nearly 2000 years after the earliest accounts of dental implants, Egyptians made a key change to the procedure by carving the pegs that would fuse to the jawbone out of different materials, like ivory and metal. These were the first metal implants ever recorded in history, and to this day, similar materials are used for the treatment.
A Modern Take on Ancient Dentistry
Fast forward to the early and mid-1900s when researchers began studying how different metals, like titanium, would bind and regenerate bone structure. Their findings would encourage Dr. Branemark to place the first titanium implant in a human patient in 1965. The success of this procedure led it to be more widely accepted by the scientific community in 1982, and more dentists began using dental implants to replace missing teeth.
The Future of Dental Implants
New technological advancements are made every day, which means there's a bright future for the dental implant procedure. Dentists have begun implementing cutting-edge technology like 3D cone beam scanners and 3D printers into their practices to improve the success rate of this procedure. They've also introduced other biocompatible materials, like zirconia, into the process to provide more options for patients to choose to have their implants made from.
Understanding the long-standing history of this impressive tooth replacement solution can give any person looking to fill a gap in their smile a little extra confidence to find out what dental treatment can help boost their quality of life.
About the Author
Dr. Rafiq Hirji has over a decade of experience in dentistry. He's able to offer modern solutions for his patients by pursuing continuing education and taking advanced courses to sharpen his clinical skills. He also partners with specialists in the areas to ensure his patients receive the best results when they replace missing teeth with dental implants. To learn whether you're a good candidate for dental implants, visit our website or call 972-546-4114.
Comments Off

on Dental Implants: Just How Far Has This Modern Procedure Come?
No Comments
No comments yet.
RSS feed for comments on this post.
Sorry, the comment form is closed at this time.