August 30, 2022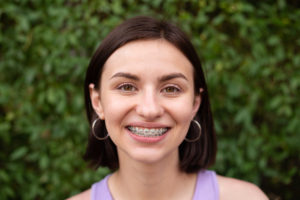 Life with braces in Irving can seem like a lot to handle, but imagine dealing with an unexpected broken bracket or swelling around the gums in addition to adjusting to your new braces! Having to think on your toes and address an orthodontic emergency can add unwanted stress to your journey towards a straighter smile. To help make your experience smoother, follow these four tips on how to avoid a visit to your emergency dentist.
Watch What Foods You Eat
Once you get braces, it's an unfortunate reality that you'll need to eliminate certain sticky and hard foods from your diet (but, it's also completely worth it for the end goal!). While it may be tempting to snag a piece of taffy from a candy bowl or chew on gum when your breath isn't feeling so fresh, doing so could put your brackets and archwire at risk of breaking. To keep this from happening, be intentional about avoiding hard and sticky foods—it'll be well worth the effort!
Curb Bad Habits
Do you bite your nails or chew on the ends of pens or pencils whenever you're anxious or thinking? With braces, it's important to be mindful of these habits and implement new, healthier coping skills to avoid an orthodontic emergency in Irving due to a dislodged bracket or broken wire. Instead of turning to chewing on things for relief, try squeezing a stress ball or fiddling with an object.
Maintain Good Oral Hygiene
Once you get braces, you'll need to make some slight adjustments to your hygiene routine in order to keep oral health problems from forming. By flossing daily and using specially crafted hygiene tools that help you reach between your brackets and wires to remove plaque and debris from your teeth, you can keep cavities and gum disease from interfering with your treatment.
Protect Your Smile While Playing Sports
Last, but definitely not least, it's important to protect your braces and your teeth from impact if you play any sport that involves contact with other people or objects. The best way to block your smile is with a custom-fitted mouthguard from your dentist. Since it's molded to snuggly fit around your teeth and braces, you'll be able to participate in your sport with confidence, knowing that your odds of being rushed to an emergency dentist are low.
By protecting your braces and following these four preventive measures, not only can you make it to the finish line of your braces journey with minimal stress, but you can also save your wallet from a surprise emergency dental bill!
About the Author
With over a decade of experience under his belt as well as additional training in specialized dental areas like sedation dentistry and orthodontics, Dr. Rafiq Hirji is able to provide fast, pain-free, and gentle emergency dental care for patients with braces. He completed his Doctor of Dental Surgery at the University of Southern California School of Dentistry and routinely takes continuing education to sharpen his skills, allowing him to provide top-tier emergency dental care. If you're in need of an emergency dentist due to an orthodontic emergency, visit our website or call 972-546-4114.
Comments Off

on 4 Tips to Help You Avoid an Orthodontic Emergency
No Comments
No comments yet.
RSS feed for comments on this post.
Sorry, the comment form is closed at this time.