September 28, 2022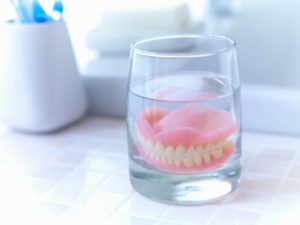 Every day, your dentures in Irving are working hard to help you chew your food, look great, and help make it easy to speak—it's no wonder that over time, they'll begin to look a worn down and discolored. Fortunately, it's possible to restore the vibrant new glow of your dentures and erase stains that have developed over time. However, there are some no-no's when it comes to trying to whiten your dentures on your own, so be careful. Read on to learn more about how you can renew the appearance of your replacement teeth without damaging them.
Can You Whiten Dentures at Home?
While it's possible to whiten your dentures at home, it's important to do so under the guidance of your dentist in Irving because there are certain products that can scratch or damage them. To help clear away debris and make your dentures a little brighter, you can soak them in denture cleaner overnight. You can also use a low-abrasive dnture toothpaste and brush them each day.
Products You Should Never Use to Whiten Your Dentures
There are certain items that you should never use to whiten your dentures at home, because doing so could be a costly mistake. These include:
Teeth whitening toothpastes
Hard bristle toothbrushes
Lemon juice
Baking soda
Any household cleaning products (like bleach or glass cleaner)
Over-the-counter teeth whitening kits
Hot water
Can You Get Dentures Professionally Whitened?
If you're looking for a 100 percent safe and more drastic result, you can also get your dentures whitened professionally by your dentist. They'll use non-abrasive materials that won't damage your replacement teeth to thoroughly clean and remove surface stains. They'll also polish them to make them look like new, and it only takes a few minutes! Typically, professionally cleaning your dentures is only needed about twice a year in addition to at-home denture care.
Keeping Your Dentures from Staining
The best way to make sure your dentures stay clean and bright after getting them professionally cleaned is with routine daily maintenance. Each night, be sure to remove your dentures and rinse your mouth. Using a soft-bristled denture brush and a non-abrasive cleaner, be sure to clear away any food debris or buildup that may have accumulated throughout the day.
To prevent staining, you can also avoid foods that are high in tannins, which are colorful pigments that can attach to your restorations. These include coffee, tomato-based sauces, red wine, berries, etc. It's completely fine to eat these foods, you'll just want to be mindful that eating them too frequently could result in discoloration of your dentures!
Even though your replacement teeth may not look bright and white right now, with a professional cleaning from your dentist and routine care, you can get them looking like new again, and along with that, enjoy newfound confidence in your smile!
About the Author
Dr. Rafiq Hirji has over a decade of experience practicing dentistry and regularly pursues continuing education to stay abreast of the latest discoveries in his field. He's passionate about creating relationships with his patients and giving them the services and tools they need to keep feeling confident in their smile. For questions about dentures or to schedule a professional cleaning, visit Daily Smiles MacArthur's website or call 972-546-4114.
Comments Off

on Can You Whiten Dentures?
No Comments
No comments yet.
RSS feed for comments on this post.
Sorry, the comment form is closed at this time.