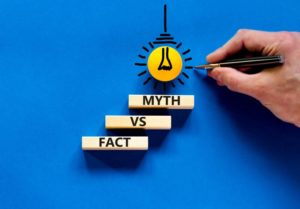 Living with any number of missing teeth can be hard, but fortunately, there are several trustworthy treatments out there that can restore your smile. Dental implants are a modern, advanced procedure that offers unique benefits that set it apart from traditional dentures and bridges. Unfortunately, some patients don't consider them as a serious option for their smile restoration because of information that they hear. Read on to learn about four common dental implant myths in Irving that could be standing in the way between you and a beautifully restored smile.
Myth 1: Everyone Will Be Able to Tell if I Have Dental Implants
One thing you can count on is that virtually nobody will be able to notice that you have dental implants. This is because they replicate the same appearance and structure of natural teeth and the restorations are crafted from high-quality dental materials, like porcelain and ceramic, that can be custom shaded to match the color of your existing teeth and reflect light, just like natural enamel does.
Myth 2: Getting Dental Implants is Painful
Many patients who have never had oral surgery before can feel anxious or scared at the thought of getting dental implants because they have to be placed below the gumline and into the jawbone. While this procedure could have been painful in the old days, thanks to modern dental technology and sedation, it's not! You won't feel a thing during your surgery, and many patients make a quick and pain-free recovery.
Myth 3: Dental Implants are Very Expensive
Even though dental implants in Irving may have a higher up-front cost than traditional restorative treatments like dentures and bridges, they're an investment that pays off down the road. The average lifespan of traditional dentures is about seven years because the shape of your face changes over the course of that time due to jawbone deterioration which changes their fit. Dental implants prevent jawbone deterioration because they stimulate the bone structure. This allows them to have an impressive average lifespan of between 20 and 30 years with the proper maintenance. In that time, you would need to replace your dentures about four times, which would cost more than investing in dental implants from the start!
Myth 4: I'll Have to Change My Diet if I Get Dental Implants
One great benefit of dental implants is that you won't have to change your diet. Because they restore your bite power by up to 90 percent, you'll be able to eat all the same foods and snacks that you did with your natural teeth. With dentures or bridges, you would need to be conscious of the fact that your restorations weren't anchored to your jawbone like your natural teeth, so they don't have a secure foundation, affecting your ability to chew certain foods.
Dental implants are quickly becoming the most popular treatment for replacing missing teeth because they offer a variety of unique benefits that set them apart from other options. Start your journey towards a restored smile that looks and feels natural by scheduling a consultation with your dentist in Irving today!
About the Author
Dr. Rafiq Hirji has over a decade of clinical experience and is dedicated to staying up to date with the latest techniques and technology. He strives to provide his patients with top-tier results that stand the test of time, which is why he offers cutting-edge treatments like dental implants to restore missing teeth. To schedule a consultation or learn more, visit Daily Smiles MacArthur's website or call 972-546-4114.