October 21, 2022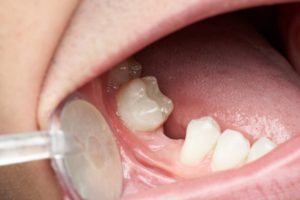 Having a single gap in your smile may not seem like a big deal, but over time, it can lead to other issues developing and even impact your confidence. While replacing a missing back tooth in Irving may require you to invest time and money into your smile, it's well worth it when you consider all of the benefits that restorative dentistry has to offer. Read on to learn four reasons why replacing your missing back teeth is a good investment.
Prevent Bone Loss
Every tooth in your mouth has roots that are anchored to your jawbone to stabilize and secure it. When a tooth goes missing and roots are no longer stimulating that part of your jawbone, your body will begin to absorb the bone tissue from your jaw. This typically begins occurring about six months after a tooth goes missing and can alter the facial structure the longer the bone is left to deteriorate. By replacing the roots of teeth with dental implants, which are anchored to the jawbone through a natural fusion process called osseointegration, you can keep this from happening.
Maintain an Even Bite
Having an even bite is crucial to the health of your jaw joints and facial muscles, and if there are gaps between your teeth, this can lead your surrounding teeth to gradually shift to fill them in, altering your bite. This can not only make it uncomfortable to chew and speak, but also lead to other issues like teeth grinding (bruxism) and TMJ dysfunction. By replacing a missing back tooth with an implant-retained crown before any shifting occurs, you can prevent these problems from arising.
Retain Oral Function (Biting & Speaking)
Each of your teeth serve a purpose, and your molars play an important role when it comes to eating and speaking by guiding your tongue and grinding up your food to help your body absorb its nutrients. Missing back teeth can drastically impact your bite power, making it hard to chew foods with texture, like steak or chicken, as well as redirect air flow while you speak, leading to lisps or speech impediments. By replacing missing back teeth, you can retain your speaking and eating abilities.
Improve the Appearance of Your Smile & Your Confidence
Someone's smile can say a lot about them, especially because that's often the first trait that people notice about each other. When you replace missing teeth, you won't have to worry about others remarking on a gap in your smile or how you're speaking differently.
Although replacing a missing back tooth with a dental implant in Irving sounds like a big investment of your time and money, it'll pay out in the long run by helping keep your oral health on the right track.
About the Author
Dr. Rafiq Hirji has over a decade of experience repairing smiles with custom-tailored restorative treatments, like dental implants. He regularly completes continuing education courses to stay on top of the latest advancements in dentistry and uses modern dental technology for the best results. To learn more about how he can replace missing teeth, visit Daily Smiles MacArthur's website or call 972-546-4114.
Comments Off

on 4 Reasons You Should Replace Missing Back Teeth
No Comments
No comments yet.
RSS feed for comments on this post.
Sorry, the comment form is closed at this time.