October 24, 2022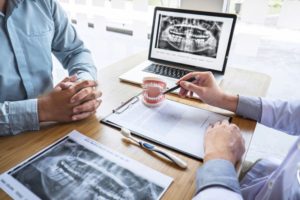 If you've been living with a gap in your smile or dentures that don't give you the spark of confidence you hoped they would, then you've likely explored different tooth replacement options. Over the last couple of decades, dental implants have become the go-to choice for restoring smiles because they provide all of the aesthetic benefits of traditional dentures and bridges with a lifelike feel. The first step of this process is a dental implant consultation in Irving. If you're planning on scheduling one, read on to learn what you can expect during this initial visit with your dentist.
Oral Examination & X-Rays
Each dental implant procedure is custom-tailored to meet the specific needs of individual patients, which is why the oral examination and X-ray portion of this process is so important. Your team of experts will start by capturing digital X-rays of your mouth so they can view what lies below your gumline, like your jawbone. Over time, if the jawbone is no longer being stimulated by tooth roots because they're missing, it can deteriorate and impact the implant's ability to fuse with bone, which plays a crucial role in the success of the procedure.
After examining your X-rays, your dentist will conduct a thorough visual assessment of your mouth as well, looking at the health of your surrounding teeth and gums to make sure no additional dental work is required before beginning the process.
Making a Treatment Plan
Based on the findings during your examination, your dentist will make a treatment plan with you, determining key details like how many dental implants you'll need to have placed and what type of restoration you'll need. Typically, if an entire arch of teeth is being restored, it will require the placement of anywhere from four to eight dental implants strategically placed along the arch. Once these factors are set, your dentist will also be able to provide you with a detailed cost estimate for the entire procedure and answer any questions you may have about the plan.
Scheduling Your Appointments
Before you leave, your dentist will help you schedule the appointments for your treatment, like connecting you with the surgeon who will do your surgery and finding the best times and dates to plan your abutment placement and the attachment of your restorations. That way, when you leave their office, you've got a plan in place!
It's true that revitalizing your smile with dental implants is more of a journey than traditional restorative dental treatments, but most people who have completed the process would agree that it's well worth the investment of time and money because of all of the benefits it implants have to offer. With a better idea of what you can expect, you can start your journey with a little more peace of mind and confidence!
About the Author
Dr. Rafiq Hirji has well over a decade of experience under his belt as a dentist. He's dedicated to providing his patients with the best results by staying up to date with the latest advancements in his field and pursuing continuing education. One of his favorite parts of being a dentist is restoring smiles and helping his patients renew their confidence alongside all of their missing teeth, which is why he offers cutting-edge tooth replacement solutions like dental implants. For questions or to schedule a dental implant consultation, visit Daily Smiles MacArthur's website or call 972-546-4114.
Comments Off

on What Can You Expect During a Dental Implant Consultation?
No Comments
No comments yet.
RSS feed for comments on this post.
Sorry, the comment form is closed at this time.