November 3, 2022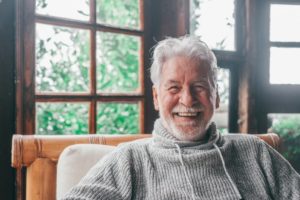 Dental implants in Irving are a popular remedy for tooth loss because they offer a wide array of benefits, one of those being an impressive lifespan. However, many people overlook them as an option due to their higher up-front cost. Based on how long they're able to last, dental implants are actually an incredibly cost-effective treatment option that boasts an impressive 95 percent success rate after five years. Read on to learn how long dental implants last and the main reason someone may experience implant failure.
The Lifespan of Dental Implants
A study published in 2009 looked at patients that had single crowns implanted and found that 95% lasted five years, while an estimated 50-80% had a survival rate of 10-15 years. Dental implants are a relatively new restorative treatment, which means there aren't many studies available able to depict their true lifespan by following subjects longer than a decade. However, the studies that are available show that they have the ability to last well over 15 years with the proper care. In fact, many dentists estimate that their average lifespan is 35+ years.
Dental Implants vs. Other Restorative Treatments
When you look at the lifespan of dental implants next to other tooth replacement treatments, like bridges and dentures, you get a better understanding of why so many patients choose this modern solution over traditional ones. Dentures and bridges typically only last about seven years before needing to be replaced due to jawbone and facial structure changes that affect the fit of the restorations. However, this isn't the case with dental implants because they prevent jawbone erosion. So, while dentures have a higher up-front cost, you'll likely end up spending less on them in the long run.
Causes of Dental Implant Failure
The top cause of dental implant failure is a condition called peri-implantitis, which is an inflammatory infection that develops around the soft and hard tissues that support your implants. Just like with your natural teeth, without proper care, bacteria can develop around the base of your restoration and below the gumline, weakening and preventing the fusion of the implant with the jawbone, which is a crucial component to the success of your restoration.
When you invest in dental implants, you're making a life-changing decision that can benefit you for decades to come and impact your day-to-day life. By simply caring for your new-and-improved smile how you would your natural teeth, you can extend their lifespan by several years, making your decision to choose implants of the most cost-effective and best one of your life!
About the Author
Dr. Rafiq Hirji has over 10 years of experience rebuilding smiles and uses the latest, cutting-edge techniques and technology to do so. He partners with local specialists to offer personalized dental implant treatments to his patients because he believes that everybody should have access to life-changing restorative dentistry. For questions or to learn whether implants are right for you, visit Daily Smiles MacArthur's website or call 972-546-4114.
Comments Off

on How Long Do Dental Implants Last?
No Comments
No comments yet.
RSS feed for comments on this post.
Sorry, the comment form is closed at this time.