December 20, 2022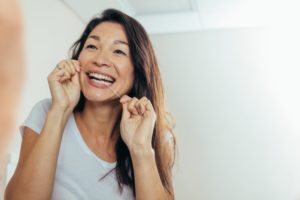 Dental implants are one of the most popular solutions for replacing missing teeth because they offer a wide array of unique benefits, like a 35-year or longer lifespan. Some people may think that once they have replaced their smile and their implants have successfully fused with their jawbone, there's no need to commit to their at-home oral hygiene routine because their teeth are now made of ceramic or porcelain. While it's true that replacement teeth can't get cavities, poor oral hygiene can still lead to problems, like dental implant failure and gum disease. Read on to learn more about the importance of flossing with dental implants and how to do it.
Why Do You Need to Floss Replacement Teeth?
It's not uncommon for people who just got artificial teeth and dental implants to wonder why they need to keep brushing and flossing. While it's true that their teeth can't decay, that doesn't mean that harmful oral bacteria can't still impact the foundation in which their dental implants are placed, like their gums and bone. In cases where people have existing teeth, neglecting your at-home oral hygiene routine can lead to additional tooth loss.
When bacteria accumulate in the mouth due to food debris, plaque, and tartar that hasn't been removed with routine brushing and flossing, it can cause infections to develop. One of the most common causes of implant failure is peri-implantitis, which is an inflammatory condition that affects the soft and hard tissues around the implants as a result of bacteria build-up. It can lead to the implants becoming loose, and when left unaddressed, ultimately falling out.
Tips for Flossing with Dental Implants
One of the best ways to remove food debris and plaque from the mouth is flossing because it can help you clean the harder-to-reach nooks and crannies. When you're flossing with dental implants, it's important to be gentle.
Grab about 18 inches of dental floss and wrap it around your fingers.
Gently slide the floss between the teeth to remove any debris.
Be sure to rub the floss along the side of the implant prosthetic and the base of the prosthetic, creating a c-shape with the floss.
Once you have flossed between two teeth, gently pull it from between them and repeat the process between the other teeth.
If using traditional dental floss is too cumbersome, you can also use a water flosser that will gently irrigate between your teeth and dislodge food particles and plaque.
Just like with your natural teeth, a good at-home oral hygiene routine is a crucial way to ensure the health of your prosthetic and dental implants. With the right care, you can increase their lifespan and avoid visits to your emergency dentist!
About the Author
Dr. Rafiq Hirji has over a decade of experience in the dental field and offers a large menu of services, from basic preventive care to advanced dental implant treatment to replace missing teeth. He is passionate about staying up-to-date with the latest research and advancements in his field and giving his patients the tools and knowledge they need to keep their smiles healthy and happy. For questions or to schedule a checkup and cleaning, visit Daily Smiles MacArthur's website or call 972-546-4114.
Comments Off

on Do I Need to Floss with Dental Implants?
No Comments
No comments yet.
RSS feed for comments on this post.
Sorry, the comment form is closed at this time.