January 19, 2023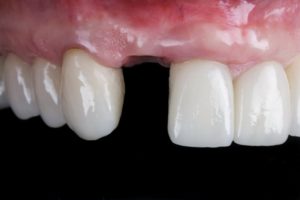 Dental implants are a popular solution for replacing missing teeth, but countless people wonder whether they'll look natural up-close, especially if they're being used to address missing front teeth. The answer is, yes! Dental implants can address a wide range of tooth loss, and with treatment from a professional, onlookers will not be able to tell which of your teeth are prosthetics, even next to your real ones. Read on to learn more about the process of replacing missing front teeth with dental implants.
The Process of Replacing Missing Front Teeth with Implants
Front teeth can go missing for a variety of reasons, but when they do, it can severely impact the function and appearance of your mouth by leaving noticeable gaps in your arch. Just like any regular dental implant treatment, you'll need to visit your dentist for a consultation so they can draw up a treatment plan and let you know whether you're a good candidate for the procedure.
When you decide to move forward with replacing missing front teeth with implants, the next step of the process will be your implant surgery. Your dentist will place titanium posts in the spaces of your smile. These will secure either a dental bridge or crowns in your mouth to repair the look and function of your smile.
After your implants and restorations are placed, it will be up to you to maintain good oral hygiene by brushing and flossing regularly, and visiting your dentist every six months for checkups and cleanings. By doing so, you can greatly extend the lifespan of your restorations, allowing you to possibly enjoy them for a lifetime.
Are You a Good Candidate?
The best way to tell whether you're a good candidate for front teeth implants is to visit your dentist. Some qualities they'll look for include:
You have enough jawbone density to support an implant post.
You don't have any lingering oral health problems.
You're looking for a more permanent and non-invasive alternative to a dental bridge.
Does it Cost More to Replace Front Teeth with Dental Implants?
Because aesthetics and attention-to-detail is so important when it comes to replacing teeth that everybody will see whenever you smile or speak, front teeth implants can be more costly than say, a molar. The price of your treatment will be influenced by a few different factors, including the number of teeth you need to have replaced and whether you require a preparatory procedure, like a bone graft. Your dentist will discuss a detailed cost outline with you during your consultation so you know exactly what to expect financially from the process.
When you replace your front teeth with a treatment that not only looks completely natural, but also allows you to effortlessly eat and speak again, you're making an investment in your confidence and health. Dental implants are known to offer priceless benefits, which is why so many patients would rather invest in a long-term restoration of their smile than save a little bit of money by settling with a traditional tooth loss treatment.
About the Author
Dr. Rafiq Hirji has over a decade of experience replacing missing teeth to improve his patients' quality of life and boost their confidence. He offers a wide array of restorative treatments, from traditional dentures and bridges to more modern dental implants. He also has clinical training in a wide range of specialty fields, including cosmetic dentistry. For questions or to schedule a consultation to learn whether dental implants are right for you, visit Daily Smiles MacArthur's website or call 972-546-4114.
Comments Off

on Can Dental Implants Replace Front Teeth?
No Comments
No comments yet.
RSS feed for comments on this post.
Sorry, the comment form is closed at this time.