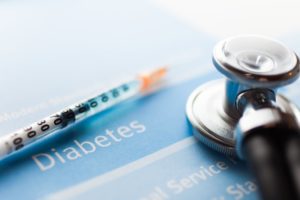 Dental implants have emerged as the gold-standard of tooth replacement within the last decade. A strong immune system plays a key role in the success of this treatment, as it requires oral surgery. Because of this, it's important to plan the treatment carefully for patients with autoimmune conditions to ensure the best results and overall success. Can implants help you restore your smile if you have diabetes?
Can Diabetics Get Dental Implants?
The short and sweet answer to whether or not diabetics can get dental implants is yes, they can! Just because you have an autoimmune condition doesn't mean that you can't ever have oral surgery or replace your missing teeth with implant prosthetics.
During your initial consultation, your dentist will go over your medical and dental history with you, asking you about how you control your diabetes. They may even partner with your primary care physician throughout the process to make sure no potential complications slip through the cracks. The only way you wouldn't be a good candidate to undergo dental implant surgery relating to diabetes would be if your condition wasn't controlled.
Are Diabetics at a Higher Risk of Implant Failure?
Because diabetes is an autoimmune condition, it means that patients with type 1 or type 2 diabetes are at a higher risk of dental implant failure because the body is slower at fighting off infections and healing. In addition, your condition can affect your body's ability to undergo osseointegration, which is where the implant fuses with the jawbone. This part of the healing process is crucial to ensuring that your prosthetics have a strong and stable foundation to be attached to.  
How Can You Ensure Treatment Success if You're Diabetic?
For a successful recovery, follow some key tips to maintain good oral health:
Continue working with your primary care physician to control your diabetes, including taking all prescribed medications.
Stick to a thorough oral hygiene routine, including brushing twice a day with a fluoridated toothpaste and soft-bristled brush, flossing once a day, and rinsing with antimicrobial mouthwash.
Treat any other oral health problems you may have, like gum disease or tooth decay, before receiving dental implants.
Don't forget to visit your dentist for bi-annual checkups and cleanings.
When your healthcare team works together to help ensure the success of your dental implants, it's likely that you'll be able to enjoy them for decades to come.
About the Author
Dr. Rafiq Hirji has over a decade of experience practicing dentistry and has completed countless hours of continuing education, allowing him to offer a wide range of high-tech treatments like dental implants. He works closely with patients to help them achieve their smile goals and his compassion and dedication to providing trusting dental care helps them feel comfortable in the treatment chair. For questions or to schedule a consultation for dental implants, visit Daily Smiles MacArthur's website or call 972-546-4114.