January 26, 2023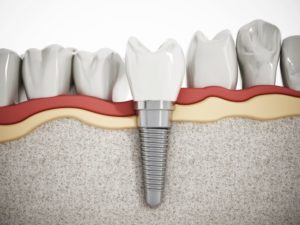 Over the last two decades, dental implants have become the gold standard for tooth replacement because of the variety of unique benefits they offer. However, because it's a relatively new procedure, some patients are hesitant to believe that it's just as safe and effective as traditional prosthetics, like dentures and bridges. Read on to learn more about the success of implants and potential risk factors involved with the procedure.
Can Anyone Safely Get Dental Implants?
Dental implants are a great option for many people looking into replacing any number of missing teeth. However, certain medical conditions, oral health barriers, and other factors will need to be considered by your implant dentist before you undergo surgery. In some cases, patients may not be perfect candidates for the process right away and require preparatory services beforehand to ensure their treatment is successful.
In addition, health complications may impact the success of dental implants, including some of the following conditions:
Autoimmune diseases, allergies, and diabetes can slow your healing rate, increasing the risk of complications throughout your recovery.
Medications that interfere with calcium processing can impact your jawbone's ability to heal and fuse with the implant.
Gum disease can compromise the foundation of your dental implants.
Osteoporosis that has led to low bone mass in the jawbone may mean you'll require a bone graft before treatment.
Tobacco use can limit blood flow to the implants, keeping them from fusing with the jawbone and preventing the gums from healing properly.
Chemotherapy and head and neck radiation can weaken the jawbone.
Are There Any Risk Factors Associated with Dental Implants?
Just like with any oral surgery, getting dental implants can present some minor risks that can be amplified if you're not a good candidate for the procedure. Some of these include:
Bleeding disorders
Infections
Allergic reactions
Failure for the implants to fuse with the jawbone
That's why the initial consultation is such a crucial part of the process. When you visit your implant dentist, they'll speak with you about your goals, oral habits, medical and dental history, and examine your mouth to help you find the best tooth replacement option for your unique situation.
In many cases, patients are able to treat existing medical and oral conditions and receive advanced preparatory procedures to ensure the success of their treatment and minimize their risk of experiencing any complications. This vetting process, along with the extensive technology and expertise involved in the placement and restoration of dental implants is what makes the process completely safe.
About the Author
Dr. Rafiq Hirji has over a decade of experience in the dental field. He's an expert at restoring smiles and provides a wide range of safe and customizable tooth replacement options for patients, including dental implants. By partnering with local oral surgeons throughout the process, he is able to achieve successful and lifelike results for his patients. For questions or to learn whether you're a good candidate for dental implants, visit our website or call 972-546-4114 to schedule a consultation.
Comments Off

on Are Dental Implants Safe?
No Comments
No comments yet.
RSS feed for comments on this post.
Sorry, the comment form is closed at this time.