February 23, 2023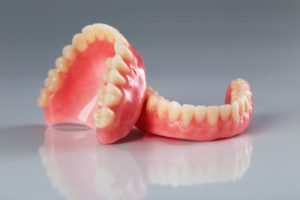 Dentures can have a life-changing impact on your day-to-day activities, so if you're investing in getting them, it's worth celebrating! While many people are simply excited to pick them up from their dentist, others feel a sense of anxiety surrounding what to expect as they adjust to using their new prosthetics. Read on to learn everything you need to know about your first month of living with dentures.
First 24 Hours
The first 24 hours of wearing your dentures are important and unique, which is why your dentist will instruct you to wear them for the entire day, even while you sleep, if you had teeth extracted before you received them. After this initial period, you'll want to remove them before you go to sleep to give your gums a chance to rest and recover from a day of supporting your prosthetic.
It's also important to stock your refrigerator and pantry with soft foods since you'll need to get used to eating with your dentures in. Hard, crunchy, and tough foods will be difficult to eat, so it's best to stick to mashed potatoes, pasta, yogurt, and other foods you won't have to chew until you get used to how your dentures function and feel.
First Two Weeks
If you had to have your teeth extracted before getting your dentures, you'll likely need to go in for a follow-up appointment with your dentist to make sure your extraction sites are healing properly and your dentures fit well.
At this point, you'll still be getting used to how your new replacement teeth feel in your mouth, so you may notice that your gums are sore. However, this discomfort should dissipate with time. If you believe your dentures don't fit properly, you can always contact your dentist to see if they need to be re-fitted.
After Two Weeks
At this point in your adjustment period, you'll notice that there will be fewer sore spots in your mouth and you won't be producing as much saliva. It's important to practice eating and speaking with your dentures in, and you may notice that you produce more saliva than you typically would. A great way to help adjust to these day-to-day tasks is to practice reading your favorite book out loud and stick to eating non-chewy foods until you feel more comfortable using your prosthetics.
30 Days & Beyond
After you hit the 30-day mark, you should notice that your dentures feel more natural in your mouth, and you find eating and speaking easier. If you don't, it may be a good idea to visit your dentist to make sure that they don't need to be adjusted. Even with your new replacement teeth, it's a good idea to visit your dentist regularly to have them examined for defects or damage and make sure that your gums stay healthy so they can continue supporting them.
About the Author
Dr. Rafiq Hirji has over a decade of experience helping restore his patients' smiles with natural-looking, customized prosthetics like dentures and implant dentures. He offers a wide range of services that can restore the function and appearance of smiles that are affected by tooth loss, and his gentle demeanor helps patients feel comfortable during these vulnerable processes. For questions or to learn how Dr. Hirji can rebuild your grin, visit Daily Smiles MacArthur's website or call 972-546-4114.
Comments Off

on What Should I Expect During My First Month with Dentures?
No Comments
No comments yet.
RSS feed for comments on this post.
Sorry, the comment form is closed at this time.