February 28, 2023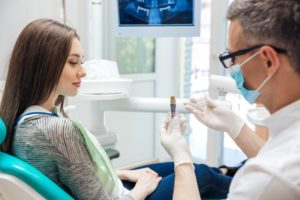 Over the last decade, dental implants have emerged as the gold standard for tooth replacement, becoming a top choice among a wide array of treatment options for patients. Not only does this modern solution allow you to enjoy a smile that's identical to your home-grown one, but it also offers a variety of benefits that distinguish it from traditional tooth replacement solutions. Before you schedule a consultation with your dentist to learn whether you're a good candidate for dental implants, be sure to commit these five important terms to memory so you can get the most out of your visit.
Dental Implant
One of the most common terms you're sure to encounter during your consultation with your implant dentist is "dental implant." These are small posts that are surgically inserted below the gumline and into the jawbone. They're typically made from materials like zirconia, ceramic, and titanium, and they act as an anchor to secure prosthetics like a dental crown, bridge, or denture within the mouth.
Osseointegration
Osseointegration is a crucial part of the dental implant process. This occurs when the dental implants fuse with the jawbone, replacing the missing root structure of the teeth and ensuring your prosthetics have a strong and stable support to be anchored to. Without successful osseointegration, the dental implants may become loose or fail. In some cases, patients may require preparatory treatments like a bone graft to ensure osseointegration occurs.
Biocompatibility/Biocompatible
Each of the materials that dental implants can be crafted from (ceramic, zirconia, and titanium) are biocompatible, which means that they have the ability to naturally fuse with the body once secured into the jawbone. This allows them to provide necessary blood flow and stimulation to the bone to keep it from deteriorating with time.
Abutment
The abutment is a small metal connector piece that your dentist will place atop a dental implant which will allow your prosthetic to click into place. After osseointegration has occurred, they will place the abutments and allow the gums to heal around them, allowing them to move onto the final step of the dental implant process where they secure the prosthetic in place.
Prosthetic
A dental prosthetic is the physical replacement for your missing teeth. When it comes to dental implant treatment, this can include a free-standing dental crown, which can replace one tooth, a bridge, which can replace several consecutive teeth, or a denture, which can restore an entire arch of teeth. Your dentist will let you know which type of prosthetic you need to rebuild your smile once they've had a chance to examine your mouth.
About the Author
Dr. Rafiq Hirji has over a decade of experience helping rebuild his patients' smiles using natural looking and feeling solutions like dental implants. He takes the time to understand his patients' unique needs, planning personalized treatments that aim to improve not only the appearance of their grins, but also their function. He partners with trusted local oral surgeons to ensure each of his patients receives the best possible results. For questions or to schedule an appointment, visit Daily Smiles MacArthur's website or call 972-546-4114.
Comments Off

on 5 Important Dental Implant Terms You Should Know
No Comments
No comments yet.
RSS feed for comments on this post.
Sorry, the comment form is closed at this time.