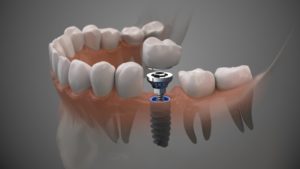 Whether you're missing one tooth or several, dental implants are a versatile, modern treatment that can restore their entire structure, including the roots. This procedure has quickly become the gold standard for restoring smiles and offers a wide range of functional and cosmetic benefits. If you're on the fence about committing to dental implants over traditional prosthetics, read on to learn about five life-changing cosmetic advantages you'll be able to enjoy when you invest in modern dentistry.
Preservation of Your Facial Structure
When teeth go missing, the roots are no longer there to stimulate the jawbone and provide it with critical blood flow. This is what preserves the bone density and signals the body that it's being used. When the jawbone where your missing tooth was once held in place is no longer being used, it will naturally erode with time, altering the appearance of your face by making your cheeks look more hollow or sunken in, or even changing the look of your profile.
Dental implants are unique in the fact that they restore the root structure of teeth, which allows them to continue providing important stimulation to the jawbone to prevent deterioration.
Replacement Teeth That Look Lifelike
Dental implants look and feel completely natural due to their comprehensive tooth replacement system. This allows you to smile with confidence, knowing that no onlookers will be able t to tell whether you have replacement teeth.
No Alteration of Natural Teeth Necessary
Unlike traditional restorations like dental bridges, dental implants don't require any alteration of your existing, healthy teeth. Instead of securing the bridge to the two natural teeth located on either side of the gap in your smile, your dentist can place two dental implants. These will replace the need for abutment teeth, ensuring that your existing home-grown pearly whites stay healthy and intact, all while restoring your arch.
Improved Stability
Dental implants are made from a biocompatible material that's able to undergo a natural process called osseointegration, allowing them to fuse with the jawbone. This means that you'll have an unwavering foundation for your prosthetics to be attached to, eliminating any chances of shifting or slipping replacement teeth that cause you to trip over your words.
While traditional dentures and bridges work wonderfully for many people, dental implants provide a full spectrum of functional and cosmetic benefits that makes them a top choice among patients and providers alike, making them well worth the investment.
About the Author
Dr. Rafiq Hirji has over a decade of experience helping patients restore and rejuvenate their smiles. He offers several tooth replacement treatments, including traditional prosthetics and dental implants. He's also completed hundreds of hours of continuing education training in cosmetic dentistry, allowing him to rebuild smiles to look and function like natural. For questions or to schedule a dental implant consultation, visit Daily Smiles MacArthur's website or call 972-546-4114.