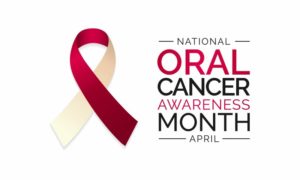 April is Oral Cancer Awareness Month, which is annually observed to highlight the disease and the impact that it has on countless people across the globe. There are several factors that can increase your risk of developing oral cancer, and when left to progress throughout the body, it can lead to drastic life changes and worse, death. With a goal to bring awareness to this disease and help others understand their risks and what they can do to remain healthy, your dentist has highlighted four important facts about oral cancer.
Oral Cancer Doesn't Discriminate Based on Age
When many people think of oral cancer, they imagine older people being diagnosed, and while it's true that the average age of diagnosis is 63, this disease doesn't discriminate. While tumors and other signs of oral cancer in children are often benign, with diagnosis being very rare, it does happen on occasion, which is why screenings should happen at every age.
Routine Screenings Could Save Your Life
Did you know that every time you visit your dentist for a bi-annual checkup, they conduct an oral cancer screening? Many people don't even know it because it's so fast! This process only takes about five minutes, and today, some dentists even utilize advanced diagnostic technology to make sure no stone goes left unturned.
First, they'll conduct a visual examination of your mouth in search of any signs of oral cancer. Then, they'll complete a quick, physical examination, being sure to observe your throat, tongue, lips, gums, and palate for any concerning symptoms. If they do spot anything, they'll be able to refer you for additional testing.
There are Several Signs of Oral Cancer
In order to increase the chances of early diagnosis, it's important for everyone to know the signs of oral cancer. These include:
A sore throat or hoarseness that doesn't go away for weeks.
Swollen tonsils on one side, which is typically painless.
A persistent cough that doesn't resolve for days or weeks.
A lump on the outside of the neck that hasn't gone away for at least two weeks.
Difficulty swallowing food or feeling like food gets caught in the throat.
An earache on one side that persists past two weeks.
Any type of oral legion that doesn't go away within two weeks.
HPV is Among the Most Common Risk Factors Associated with Oral Cancer
Most people are aware of risk factors for oral cancer like alcohol and tobacco use. However, did you know that HPV is among one of the most common, modern risk factors associated with this disease? Research has shown that HPV, or the sexually transmitted human papillomavirus 16, commonly leads to oral cancer developing in the tonsils or tongue. It's important to be aware of all of your risk factors so you can alert your dentist and primary care physician so they can complete routine preventive screenings and examinations.
Every hour someone dies of oral or oropharyngeal cancer, but early diagnosis can increase the survival rates of treatment and change the lives of countless patients and families. With these important facts under your belt, you can take the proper steps to protect yourself from this disease so you don't become a statistic.
About the Author
Dr. Rafiq Hirji has been providing patients with thorough preventive dentistry for over a decade. He enjoys getting to know his patients and wants what's best for their health and wellness. During routine checkups and cleanings, he's diligent about providing detailed oral cancer screenings, especially for those of his patients who are at a higher risk of developing the disease. He strives to ensure that everyone who comes to him for care is able to enjoy a complete and healthy smile for their life. For questions or to schedule an appointment, visit Daily Smiles MacArthur's website or call 972-546-4114.