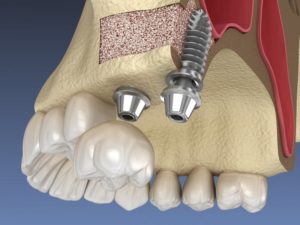 Not everybody is a good candidate for dental implants right away. However, that doesn't mean that you can't get there! For patients who have been missing teeth for awhile or who have a facial anatomy that could make the surgical placement of implants more involved, they may require a preparatory procedure before being able to move forward with treatment. This is to ensure the success of their journey, helping them enjoy a bright and brilliant smile for decades to come. Read on to learn about three preparatory procedures that you may need in order to restore your smile with implants.
Gum Disease Treatment
An estimated one out of every two adults have gum disease, which is an infection of the soft tissues within the mouth due to bacteria accumulation. Before dental implants can be placed, it's necessary to treat the condition, or else it could lead to a common infection that causes dental implant failure, called peri-implantitis.
Your dentist may recommend scaling and root planing, also referred to as a deep cleaning, alongside antibiotic therapy to kill bacteria within the mouth that could lead to worsening symptoms or implant-compromising infection.
Sinus Lift
If you have allergies, you're likely familiar with the location of your sinuses in the forehead and nasal area, right above your hard palate at the top of your mouth. If your sinuses are located too close to the bone or too large, your dentist may recommend a sinus lift. Sinus lifts may also be necessary for those who have sustained bone deterioration on the upper arch, leaving less protective bone between the mouth and sinuses.
During this procedure, an oral surgeon will gently shift your sinuses upward to prevent them from becoming punctured or affected by your implant surgery.
Bone Graft
Upon experiencing tooth loss, your jawbone will deteriorate with time because it will no longer be stimulated by the roots of the tooth or teeth that once occupied your jaw. This can become an issue, especially during the osseointegration process of the dental implant treatment by preventing the natural integration with your bone if there's not enough of it. In these cases, your dentist may recommend a bone graft. This involves taking bone from an existing area of your body, like your chin, shin, or hip, or a synthetic material, and grafting it to the deteriorated portion of your jawbone.
Ultimately, the only person that will be able to let you know whether you require preparatory treatments is your dental implant dentist once they've had a chance to examine your X-rays and mouth. They'll bundle these additional procedures with the entirety of your dental implant treatment plan so you'll know exactly what to expect from your journey towards a natural looking and functioning smile.
About the Author
Dr. Rafiq Hirji has over a decade of experience helping his patients restore and rejuvenate their smiles. He offers cutting-edge dental implant treatment and partners with local oral surgeons to complete preparatory procedures as well as the placement part of the process. He also offers sedation dentistry and utilizes modern, precise diagnostic technology within his office to ensure the best results. For questions or to schedule a dental implant consultation, visit Daily Smiles MacArthur's website or call 972-546-4114.